AG Ellison launches civil investigation into Kia, Hyundai over vehicle thefts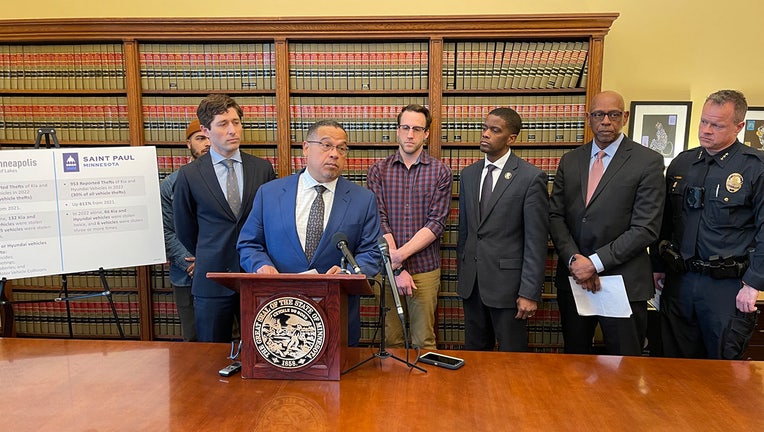 article
MINNEAPOLIS (FOX 9) - Minnesota Attorney General Keith Ellison announced a civil investigation into Kia and Hyundai amid a surge of vehicle thefts in the Twin Cities. 
In a press conference on Tuesday, Ellison said the investigation will look into whether the two automotive companies violated Minnesota consumer protection and public nuisance laws for failing to equip their vehicles with the industry standard anti-theft technology. 
"They've had a long time to address this problem. But all they've done is less than half measures, weak steps and non-solutions. And we don't have any more time to wait," Ellison said. 
The announcement comes less than a week after the mayors of Minneapolis and St. Paul joined Ellison in calling on Kia and Hyundai to issue a safety recall and outfit all vehicles with industry-standard anti-theft technology to curb the spike in vehicle thefts in the Twin Cities metro.
They sent a letter to the North American CEOs of Kia and Hyundai on March 2 asking the carmakers to immediately recall all vehicles that are missing engine immobilizers, which is an industry-standard anti-theft technology and to equip all new vehicles with the same safety updates. 
Ellison said on Tuesday they received an answer back that was filled with "more misdirection and denial." 
The attorney general's office served Kia and Hyundai with civil investigation demands on Tuesday, which will require the companies to answer questions under oath and produce documents for review.
"This is a public safety issue, not just a consumer issue," Ellison said.
The Twin Cities have struggled with Kia and Hyundai vehicle thefts, with nearly 3,300 vehicles reported stolen in 2022. The City of Minneapolis said Kia or Hyundai vehicle thefts were tied to five homicides, 13 shootings, 36 robberies and 265 car crashes in the past year.