A history-making January in International Falls, Minnesota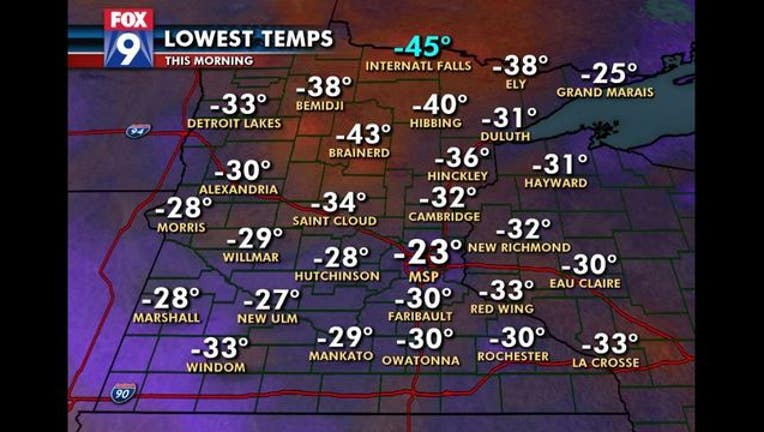 INTERNATIONAL FALLS, Minn. (FOX 9) - International Falls, commonly referred to as the "nation's icebox,"set another record low Thursday morning--the third record they have set this month. 
The thermometer dipped to 45 degrees below this morning shattering the old record of 35 below set back in 1909. 
The city has set two other daily record lows this month, one of those coming just the day before with a low of minus 40 and the other this past Sunday at minus 46. The all-time record low for the city is minus 55 so that number stayed safe.
While International Falls may be known as the nation's icebox, mostly because it is about the coldest location that directly borders Canada, it is not Minnesota's coldest location. Several cities, including Cotton, have seen colder temperatures the last few days. 
Located farther east of International Falls, Cotton hit minus 56 on Sunday and again Thursday morning. That is the coldest recorded temperature in the state since Embarrass set a state record low of minus 60 back in 1996.
The cold temperatures were not enough to stop some from completing the 135-mile Arrowhead Race. 
What may be even more astonishing is just how up and down January has been. International Falls had its ninth warmest start on record through the first half of the month, but had the exact opposite in the second half with a top five cold finish. The city will likely end up about 4 degrees below average for the month as a whole. That might be one of the biggest swings in temperatures the city has ever seen.