2 more Minnesotans arrested in connection with Jan. 6 U.S. Capitol riot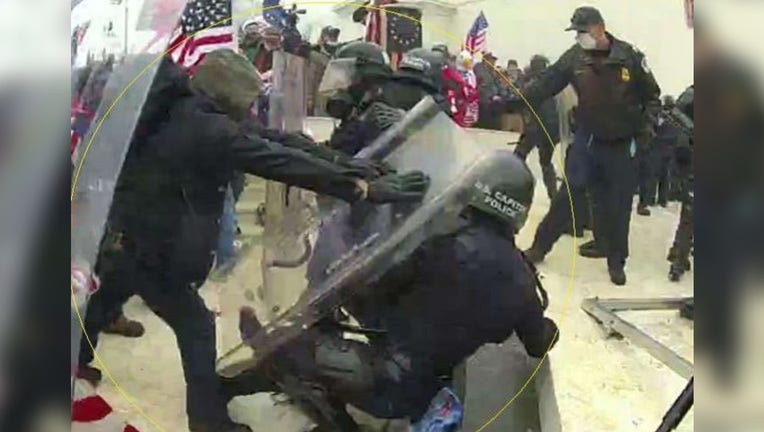 (FOX 9) - Two more Minnesotans have been arrested in connection to the riot at the U.S. Capitol on Jan. 6.
FBI Minneapolis special agents arrested 42-year-old Brian Mock of Minneapolis and 29-year-old Daniel Johnson of Austin on charges relating to criminal acts at the U.S. Capitol. Mock was charged with assaulting an officer, obstruction of law enforcement during civil disorder, acts of physical violence on the Capitol grounds, and knowingly entering restricted buildings or grounds. Johnson was charged with entering a restricted building, disorderly conduct in a restricted building, violent entry, and demonstrating in a Capitol building.
On Jan. 6, the U.S. Capitol was overrun by a crowd of President Donald Trump's supporters as senators worked to certify the results of the 2020 election, resulting in several deaths. 
According to the criminal complaint, body camera captured Mock pushing a U.S. Capitol police officer to the ground and apparently kicking the officer. Mock then shouted "Get out! Go" to the other officers while standing at the front of the crowd. As the crowd continued advance on the officers on the terrace, Mock shoved another Capitol police officer, who was holding a police shield, to the ground. Mock picked up Capitol police riot shields and passed them back to the crowd. 
Social media posts by Mock and his girlfriend helped investigators track down Mock. Witnesses told officials after Mock returned home from the riot he was "bragging about beating up cops and destroying property in the [Capitol]." After executing a search warrant of Mock's Facebook account, investigators found a post from Mock where he admitted going to the Capitol.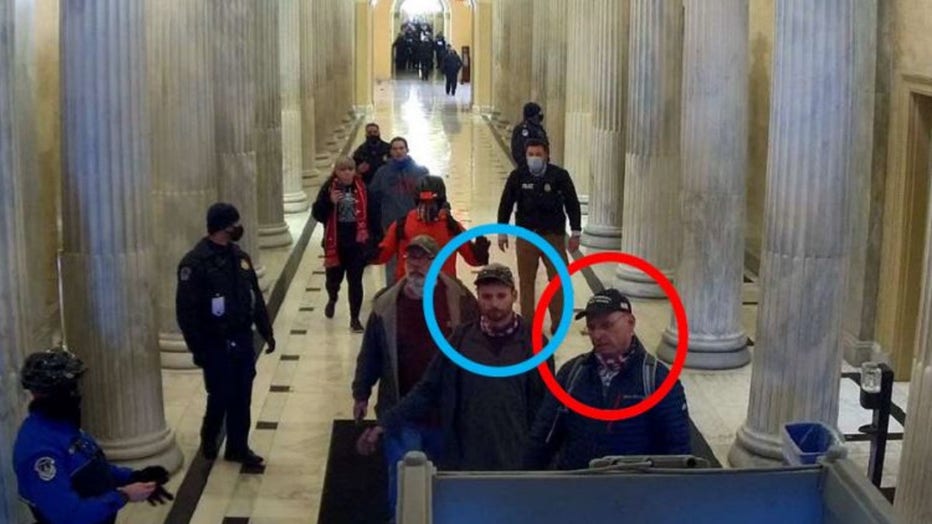 Daniel Johnson (left) and Daryl Johnson (right) were captured on camera walking inside the Capitol during the riot on Jan. 6.
The charges state a tipster notified the FBI Daniel Johnson shared a Snapchat video of being inside the Capitol building. Investigators later found video of Daniel walking inside the Capitol with his father, Daryl Johnson. After executing a search warrant on both of their Facebook accounts, they found comments and private messages from both men stating they were at the Capitol riot. In a comment, Daniel said they were among the first ones inside.
According to the complaint, Daryl Johnson was formerly the mayor of St. Ansgar, Iowa. Daryl was arrested in Iowa and also charged for entering the Capitol.
A total of five Minnesotans are now accused of criminal acts in connection to the Jan. 6 riot.