16-year-old charged in the fatal stabbing of a student at Harding High School
ST. PAUL, Minn. (FOX 9) - A 16-year-old was charged with second-degree murder for the fatal stabbing of another student at Harding High School on Friday.
According to charging documents, St. Paul police officers were dispatched to Harding High School on Friday for a report of an assault on a student. Upon arrival, school staff was performing life-saving measures on a 15-year-old student. The teen was transported to Regions Hospital where he was pronounced dead. 
The Assistant Principal told investigators he saw two students arguing with another student when they began fighting, charges say. Staff tried to separate the students, but the 16-year-old lunged at the 15-year-old, stabbing him twice.
The charges say the 15-year-old went to the nurse's office after realizing he had been stabbed while the 16-year-old walked away. A witness who was with the 15-year-old told police the student said he was "dizzy and collapsed."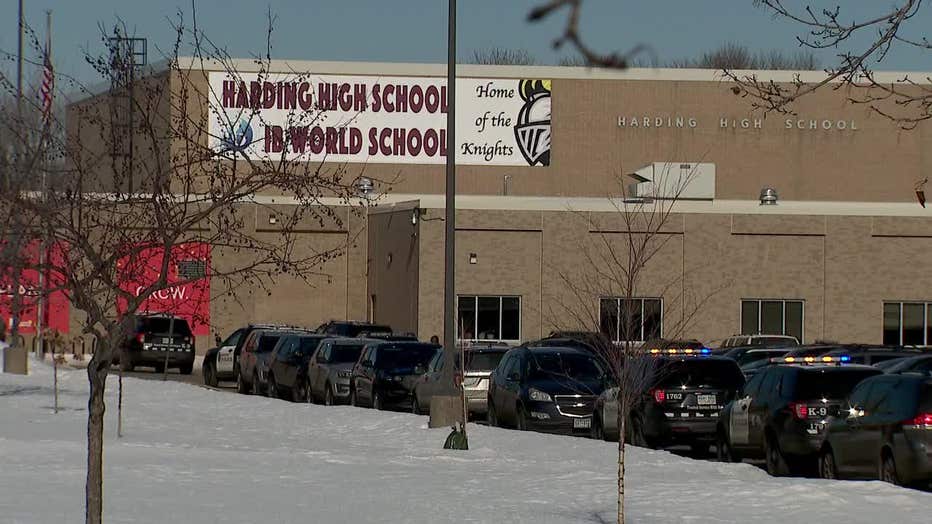 A reported stabbing at Harding High School in St. Paul, Minnesota, on Feb. 10, 2023. (FOX 9)
The 16-year-old was placed in handcuffs and searched by security staff. The charges say a knife was located on the teen and covered in blood which was turned over to police when they arrived. 
Prosecutors filed a presumptive motion on Tuesday for the 16-year-old to be charged as an adult. The teen faces a charge of second-degree murder without intent while committing a felony.