Minnesota weather: Warm and mild weekend ahead
(FOX 9) - The thaw is on as we head into a quiet and mild weekend with temperatures above average for this time of year.
Sunshine will greet us for the start of a three-day weekend, with Saturday having patches of sunshine before the clouds move in and linger through Sunday. 
Before the warmer temperatures arrive, Saturday will start chilly in the Twin Cities with temperatures in the teens but will climb into the low 30s by the afternoon. There will be chances of light winds coming out of the southeast at 10-15 mph throughout the day. 
The afternoon highs climb even higher for Sunday into the mid-30s, and the thaw will continue through the start of the week. Beginning Sunday, temperatures will be at or above freezing through Tuesday, so a lovely few days of warmer weather for this time of year.
Things will stay dry for Saturday and Sunday before a system moves in, bringing rain chances Monday. Rain will transition into a wintry mix, with snow possible overnight into Tuesday. 
The warmer temperatures will stick around until midweek, with the temperature expected to drop back into the 20s before the weekend. The average temperature for this time of year is 23 degrees.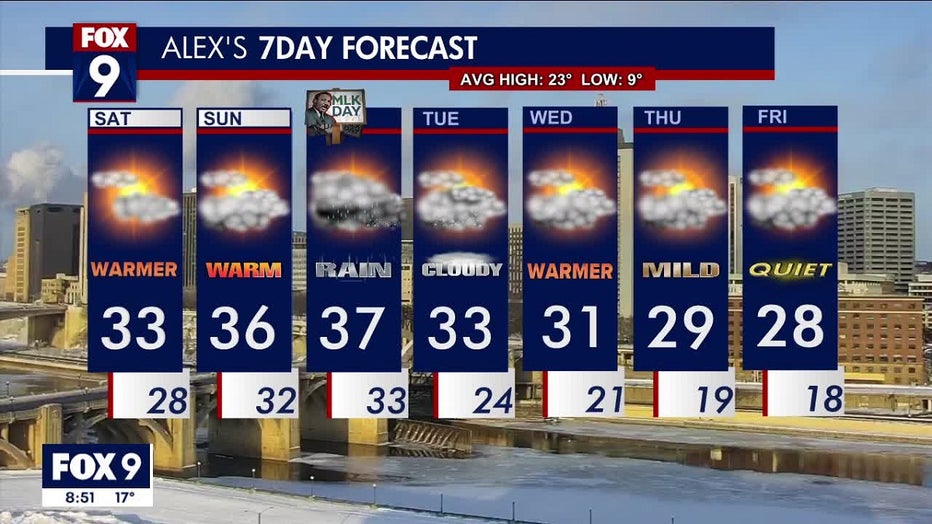 Take a look at your seven day forecast