Minnesota weather: Gusty winds, stray flurries on Thursday
MINNEAPOLIS (FOX 9) - After a tranquil start to the day Thursday, expect gusty breezes in the afternoon and a stray flurry or two. 
35-plus mph gusts are possible by Thursday afternoon, making the mid-30s feel rather chilly. Clouds will also hang around, with a stray flurry possible. Any accumulating precipitation will stay southeast of Minnesota, though.
Things will quickly clear Thursday night, and it'll turn cold. The low overnight will dip down to the single digits for the southern half of Minnesota, while Brainerd, Duluth and Ely could see below-zero lows overnight. 
The high on Friday will be around 26 degrees with sunshine. Temperatures will likely feel better than Thursday, though, due to the lack of strong winds. 
Looking ahead to this weekend, temperatures will warm back above freezing. The high on Saturday will be around 36 degrees and sunny. Super Bowl Sunday will be mild with sunshine and a high of around 37 degrees. 
The warm weather sticks around into next week. Here's your seven-day forecast: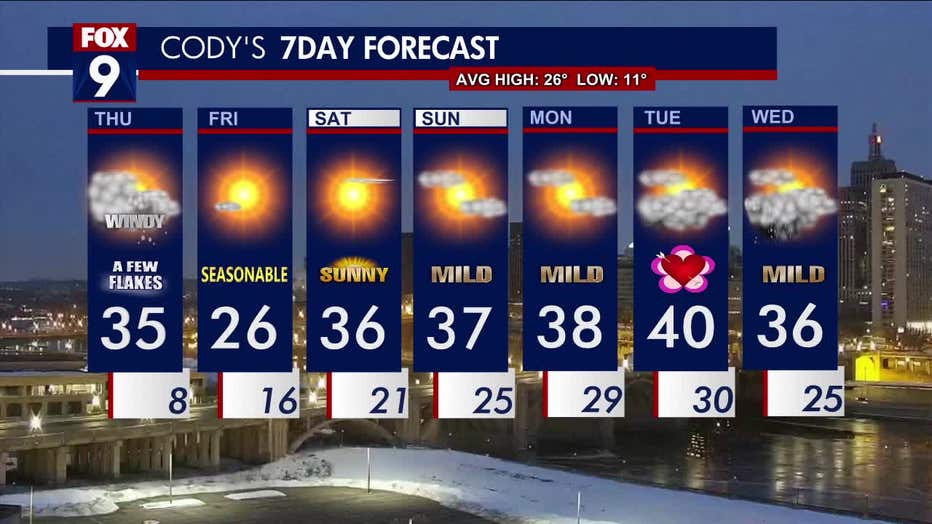 The seven-day forecast features another period of thawing, with highs above freezing. (FOX 9)