Minnesota weather: Damp and cloudy, more snow possible later this week
(FOX 9) - The precipitation will be light on Tuesday, but the next chance for measurable snow is right around the corner.
Overnight snow caused slick roads for the morning commute on Tuesday, and the slushy mess could turn to ice in the evening as the temperatures are expected to drop below the freezing point. 
While it's unlikely there will be any more measurable snow in the Twin Cities metro on Tuesday, the weather will be damp with patchy areas of drizzle and flurries that will slowly taper off throughout the day. The clouds will linger most of the day, with temperatures in the mid-30s.
The next chance for measurable snow is Wednesday into Thursday, but the system will mainly affect southern Minnesota. The region is under a winter storm watch as they could possibly see over six inches of snow. The Twin Cities could see a few flakes from the system, but it should remain mainly to the south.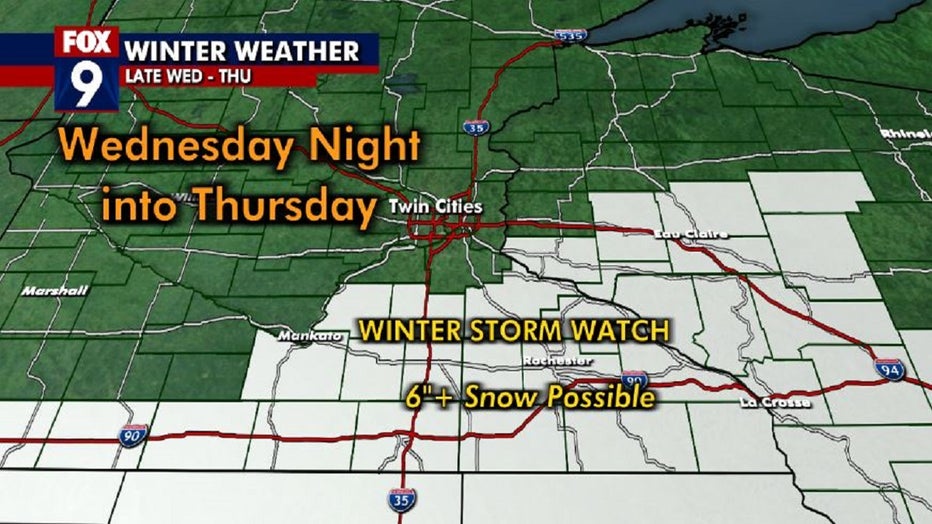 A storm system could bring measurable amount of snow to southern Minnesota Wednesday night into Thursday.
The temperatures will drop below the freezing mark Tuesday night, bringing another refreeze and causing slick road conditions. However, Tuesday overall should remain a relatively mild but gloomy day.