Minnesota weather: Chilly start on Saturday before weekend warm up
(FOX 9) - After a frigid past few days, Saturday will start off chilly but temperatures will steadily warm throughout the day as part of the big weekend warm up.
The high on Friday stayed in the single digits with feels like temperatures well below zero. Temperatures will skyrocket this weekend and into next week thanks to a warm front pushing into Minnesota from a westerly flow. 
It'll be a great weekend to get outdoors and do some fun winter activities. The weather will be mild with patches of sun and no expected precipitation. 
Related stories: What to do in Minnesota: 7 things to do this weekend (Feb. 3-5)
Saturday will start on the colder side with temperatures in the single digits but will warm up throughout the day, reaching the low 30s. The morning will start with sunny skies before clouds roll in by the afternoon. Expect a light wind coming out of the south at 5-10 mph. In the evening, temperatures stay steady and only drop a couple of degrees. 
Sunday will be slightly cooler than Saturday, with highs in the low 30s and light clouds in the sky.  
It'll stay above freezing next week and well above average with a few days nearing 40 degrees. There could be a chance for some patchy light precipitation on Monday before a beautiful rest of the week.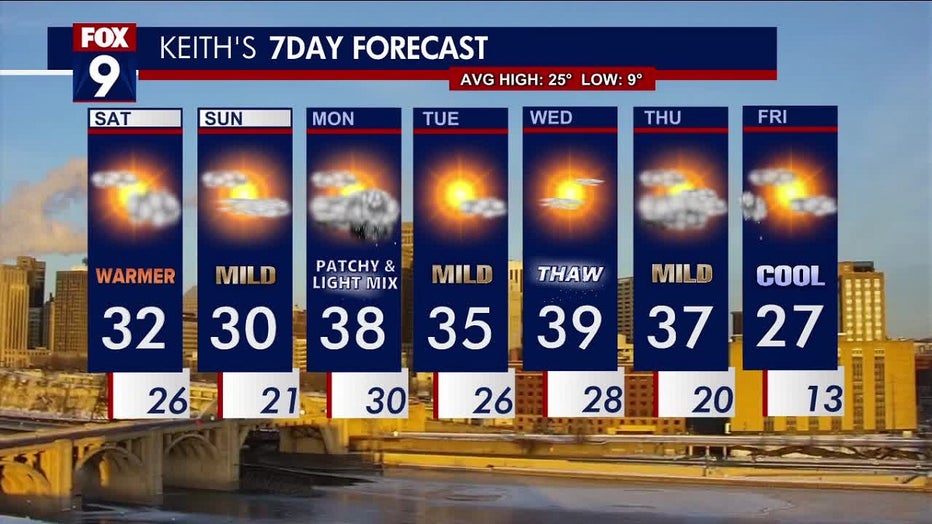 Take a look at your seven-day forecast