Wolves' Anthony Edwards gets All-Star snub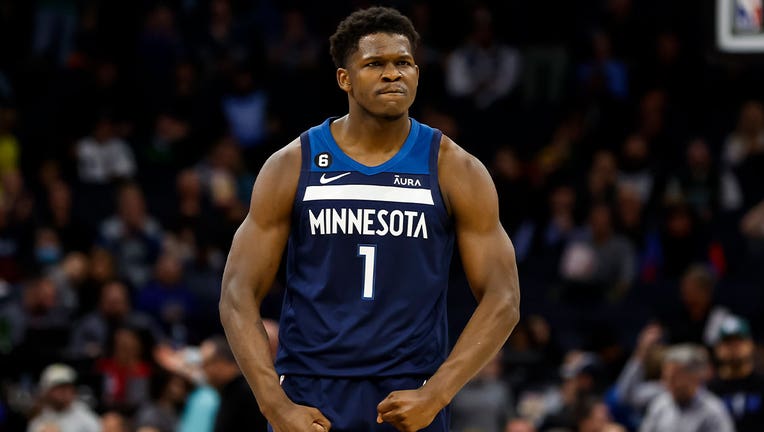 article
MINNEAPOLIS (FOX 9) - The 2023 NBA All-Star Game roster selections are out and one notable name from the Minnesota Timberwolves has been left off.
Anthony Edwards is not among the seven players named as All-Star reserves. It was a possibility Edwards was prepared for, telling NBA writer Marc Spears for Andscape last month: "That's how it always been. I've never been the person to get chosen to be an All-Star… I'm used to it at this point."
His teammate Karl Anthony-Towns wasn't as accepting, tweeting: "This gotta be a joke."
Edwards is in the midst of his third and best season in the NBA, averaging nearly 25 points per game while shooting 46 percent from the field and 37 percent from three.
But, in the West, competition is stiff for All-Star spots. For guards, Shai Gilgeous-Alexander and Ja Morant both earned spots. Both players are averaging more points and assists than Edwards.
Frontcourt spots usually go to larger players than Edwards, who sometimes plays at the 3. But, if you were to consider Edwards for a frontcourt spot, he'd be looking to displace Lauri Markkanen, Domantas Sabonis, and Jaren Jackson Jr.
Like Edwards, Markkanen is averaging just short of 25 points per game but on 52 percent shooting. Sabonis is averaging only 18 points per game but leading the league in rebounds. While Jackson is putting together a phenomenal defensive season, averaging 3.3 blocks per game, and is considered a frontrunner for Defensive Player of the Year.
The best argument for Wolves fans to get on the roster would be as a "wildcard". Portland's Damien Lillard and the Clippers' Paul George both earned selections this year as wildcards.
Lillard is having another incredible year, but Minnesota fans would likely give Edwards the nod over George. George is averaging 23 points per game on 46 percent shooting and 38 percent from three. Outside of that, Edwards and George have comparable numbers at assists, rebounds, blocks, and steals. The veteran George is also not playing up to his past standards as a defender, advanced stats show.
George has also played 17 fewer games than Edwards (54 to 37).
It's possible Edwards still ends up on the All-Star roster as a substitute if a current selection ends up missing the game due to injury.