What will Gophers hoops look like in 2019?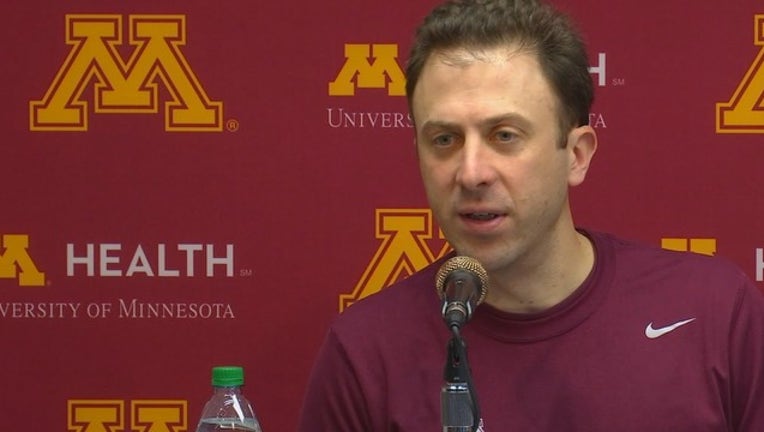 MINNEAPOLIS (FOX 9) - The future for University of Minnesota men's basketball appears to be bright after the Gophers' second trip to the NCAA Tournament in three years for Richard Pitino.
But as recently as earlier this month, Pitino was potentially on the hot seat. The Gophers entered Senior Night with eight Big Ten wins, badly needing a win over then No. 11-ranked Purdue to essentially solidify an NCAA Tournament spot.
Minnesota went to the Big Ten Tournament likely needing a win over Penn State to lock up a bid in the Big Dance. It took overtime, but the Gophers got it. Then they helped themselves with another win over the Boilermakers, who will play Saturday for a trip to Minneapolis and the Final Four.
The Gophers beat Louisville in the opening round of the NCAA Tournament, then didn't have a chance against Michigan State without Jordan Murphy. They lost 70-50 to the Spartans, ending the season 22-14. Pitino could take a breath, not needing to worry about his job status for at least the immediate future.
It was a chance for some relief for the 36-year-old father of three who has established roots in the Twin Cities.
"Humanize it as much as you want, I want to be here. You read things and you here things. When you see your picture up there as on the hot seat, if he doesn't make the tournament he's fired. I don't know if it's true or not, I didn't want to ask Mark (Coyle)," Pitino said before the Gophers left for the NCAA Tournament.
So what will Minnesota look like next year? The reality is we don't have any idea yet, and won't for a while. At least not until spring recruiting finalizes itself.
Seniors Dupree McBrayer, Murphy, Brock Stull, Matz Stockman and Jarvis Johnson will be gone after graduating.
As for who is returning, we know that guard Marcus Carr will be eligible next season after sitting out due to NCAA transfer rules. The same goes for Payton Willis. Other returners include Gabe Kalscheur, Jarvis Omersa, Daniel Oturu, Eric Curry, Michael Hurt, Eric Curry, Isaiah Washington and Amir Coffey, who will test the NBA Draft waters but likely return.
Reports indicate there won't be any transfers this off-season, which would mean there are three scholarships available after Tre Williams signed in the fall. So who will the new faces be next season?
Don't rule out top-10 ranked high school senior Matthew Hurt, at least not yet. He's made it clear in the past he would like to play one college season with his brother. Michael Hurt will be a senior next year, and recently said he's staying with the Gophers despite reports he would graduate early and transfer. But Pitino has an uphill climb, as Matthew Hurt is still being courted by Kansas, Duke, North Carolina, Kentucky and Memphis as well as the Gophers. He'll make his decision on April 19, giving his family an early birthday present.
There's also been a narrative that Pitino hasn't recruited Minnesota well. It depends on how you look at it. His first big local signee was DeLaSalle star Jarvis Johnson, who was never medically cleared to play by the NCAA due to a heart condition. He was able to keep Coffey home, and he has the best chance to be Minnesota's first NBA draft choice since Kris Humphries.
The Gophers' starting five this season included DeLaSalle's Kalscheur, Cretin-Derham Hall's Oturu and Coffey. Orono product Jarvis Omersa spent most of the season on the bench, but gave quality minutes in the NCAA Tournament loss to Michigan State with Murphy's back ailing.
By now, we know the local players who haven't Williams Arena their second home. Tyus Jones, J.P. Macura, Rashad Vaughn and Reid Travis in 2014, but they never got much of a chance to establish relationships with the newly-hired Pitino. Brad Davison and Nate Reuvers went to Wisconsin, McKinley Wright is at Colorado, Theo John and Sacar Anim are at Marquette and Jericho Sims is at Texas.
This year, Matthew Hurt remains the top undecided player. Zeke Nnaji is headed to Arizona, Tyrell Terry is going to Stanford and Tyler Wahl to Wisconsin. Everything changes if Hurt stays.
Pitino said before the NCAA Tournament there's no better selling point for local kids than seeing Coffey, Kalscheur, Oturu and Omersa succeed in Minnesota uniforms.
"We have Minnesota kids, and when you're building a program and recruiting locally, there's nothing you can sell more than local kids having a great experience," Pitino said. "Daniel, Jarvis and Gabe are the right type of kids to have on your team because they love the state of Minnesota. They love this university, Daniel Oturu does the rouser with enthusiasm. They all chose here because they wanted to play at Minnesota."
The Gophers will need front-court depth next season to help Oturu, and there's no guarantee Curry will be fully healthy. He missed the entire 2017-18 season with a knee injury, and missed the first 13 game this year after another knee surgery. He played in 15 games before suffering a foot injury in practice that required season-ending surgery.
Minnesota also needs more shooters. McBrayer and Coffey could occasionally make shots from the perimeter, but Kalscheur was the only consistent threat at 41 percent. Coffey shot 30.1 percent for the season.
We'll know a lot more about what the Gophers will look like when spring recruiting heats up in April.