Vikings: What will they do with highly-paid veterans and salary cap issues?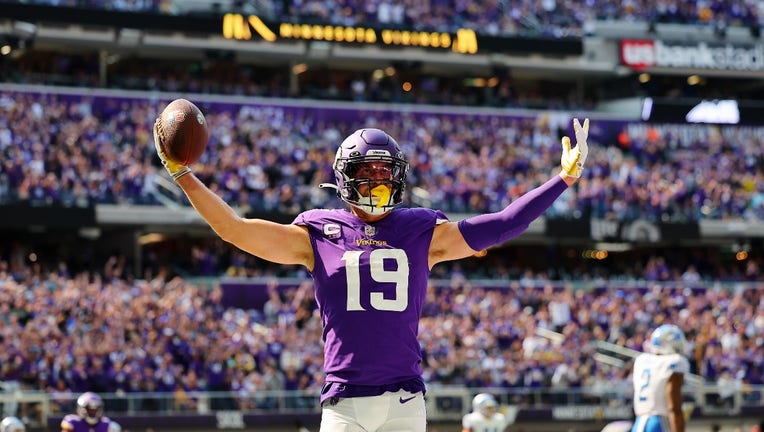 article
MINNEAPOLIS - Kwesi Adofo-Mensah and Kevin O'Connell just finished their first season with the Minnesota Vikings, and by most accounts, they passed with flying colors.
The Vikings won 13 games, won a division title and earned the franchise's first home playoff game since 2018. Adofo-Mensah coined the phrase "competitive rebuild" coming into his first season running a front office. He wanted to change the vibe and the culture at TCO Performance Center and within the team, while largely keeping the roster from last season intact. 
Now, Adofo-Mensah and the Vikings have some serious conversations on the horizon. They're more than $24 million over the salary cap heading into 2023, and they need to pay Justin Jefferson. Here's a look at where some things might stand with key veterans heading into the offseason.
KIRK COUSINS
By all accounts, Kirk Cousins had his best year yet with the Vikings. He threw for more than 4,000 yards for the third straight season, and fourth in five years in Minnesota. He had 29 touchdowns and 14 interceptions, and tied an NFL record with eight fourth quarter comebacks. He was also sacked a career-high 46 times, just the second time in five seasons with the Vikings that he was sacked 40-plus times.
Cousins is due to make $36 million against the team's cap in 2023, so it's a safe bet the front office will work to extend Cousins in Minnesota, and lower that number.
DALVIN COOK
Dalvin Cook ran for more than 1,000 yards for the fourth straight season, while getting the second-most carries (264) of his career. He averaged 4.4 yards per attempt, had an 81-yard touchdown at Buffalo and had eight of his 10 touchdowns come on the ground. He played a career-high 17 games despite a shoulder injury, but also fumbled 10 times.
Cook is due $14 million against the cap next season, but it would cost the Vikings less than half that ($6.2 million) to cut him. Do they try to restructure with Cook? Or if he won't take a pay cut, bring back Alexander Mattison and hope Ty Chandler or Kene Nwangwu emerge as a running threat? Cook's future is among the toughest and most interesting decisions the Vikings have to make this offseason.
ADAM THIELEN
Adam Thielen just finished his ninth NFL season, going from earning a practice squad spot to emerging as one of the better receivers in the league a few years ago. He finished the 2022 season with 70 catches on 107 targets for 716 yards and six touchdowns in 17 games. He's also the team's Walter Payton Man of the Year nominee for his work in the community with the Thielen Foundation.
Thielen is 32 years old, and is set to make almost $20 million against the cap next season. The Vikings will seek to restructure his deal, and if he's not interested, it will cost $13.5 million in dead cap money to cut him. His wife has hinted his time in Minnesota might be over, but will another team pay up to get him? Another interesting offseason decision ahead for the Vikings.
ERIC KENDRICKS
Eric Kendricks has been with the Vikings for eight seasons and is one of the leaders on a veteran defense. He played 17 games in 2022, making 137 tackles, eight tackles for a loss and recovered a fumble for a touchdown in a crazy win at Buffalo. He also got caught in bad spots at key moments, and was on a defense that was among the worst in the NFL.
He's due $11.4 million next season, but it would cost the Vikings just $1.9 million in dead cap money to cut him. If he isn't willing to restructure, his days in Minnesota are numbered.
HARRISON SMITH
Harrison Smith has spent all of his 11 NFL seasons with the Vikings, is a defensive leader in the secondary and is a fan-favorite. He had 85 tackles in 14 games, and led the defense with five interceptions.
He's set to make $14.7 million in base salary in 2023, with a cap hit north of $19 million. It would cost the Vikings north of $11 million in dead cap to cut him, so they have a very tough decision on their hands with one of the leaders of the defense. That's an expensive cut, and they have to hope Cam Bynum is ready to take over at safety, and that Lewis Cine can come back healthy from a gruesome leg injury.
DANIELLE HUNTER
Finally back healthy after playing seven games in 2021 and missing all of 2020, Danielle Hunter had 65 tackles, 10.5 sacks and forced one fumble in 2022. He had 4.5 sacks over the final five games, including one against the Giants in the playoffs.
Hunter is due to make $13 million against the cap next season, and carries an $18.8 million dead cap hit. The Vikings have a tough decision here.
Between veterans under contract and key free agents, the Vikings have several complicated decisions ahead this offseason.