Vikings seeking offensive spark against Dolphins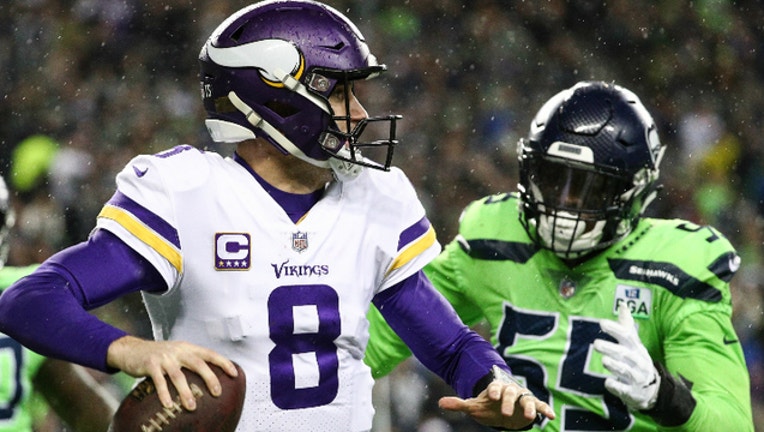 MINNEAPOLIS (FOX 9) - The Minnesota Vikings have three weeks to figure out their offensive inconsistency, or their season might be over without a trip to the NFC Playoffs.
It's a theme we've all seen before. The Vikings were on the national stage with a chance to solidify their postseason positioning Monday night. And yet again, they didn't get the job done.
It started with the offensive line, which has had issues all season getting the run game going and protecting Kirk Cousins.
"As offensive linemen we kind of pride ourselves on establishing a dominant line of scrimmage. I think we just have to win our 1-on-1 match-ups better and execute better. It comes down to doing your job individually," center Pat Elflein said.
The effort Monday was bad enough that offensive coordinator John DeFilippo was fired Tuesday morning. Quarterbacks coach Kevin Stefanski is taking the job on an interim basis.
But Cousins also put blame on himself Wednesday, saying the conversation about DeFilippo's firing probably wouldn't be happening if he had played better and made better decisions.
Before Dalvin Cook's touchdown catch from Cousins Monday night at Seattle with 1:10 left in regulation, the Vikings had managed just 206 total yards and 16 first downs against Seattle. Until that score, the Vikings hadn't had an offensive touchdown in six quarters.
Adam Thielen and Stefon Diggs faced double teams most of the night, and even some triple teams, in Monday's loss. Thielen said it's no excuse, and everyone on the offense has to execute better. Thielen and Diggs combined for nine catches on 13 targets. Cook had five catches on seven targets.
"Whether you have one guy guarding you or two guys, you have to get open. But if one guy is getting two guys on him, that means there's probably some guys in 1-on-1 coverage and there's enough talent on this offense to win those match-ups," Thielen said.
Thielen started the season with seven straight 100-yard receiving games, tying an NFL record. That streak ended in Week 8 against the New Orleans Saints, though Stefon Diggs had 10 catches for 118 yards and a touchdown in that game.
Since tying the record, Thielen has had one 100-yard receiving game in five tries. He had eight catches for 125 yards and a touchdown in a win over the Packers.
The Vikings ran 21 times and had 20 of 33 passes completed at Seattle. They're seeking more balance in their offensive attack, but the focus is on getting in the end zone.
Now the offensive keys are in Stefanski's hands, and there's not a lot of time to figure things out with a playoff berth on the line.
"What needs to change as far as execution is we've got to score points. You do that and you put yourself in a good position, especially with the way our defense has been playing," Cousins said.
Zimmer has said the last several weeks he wants to get back to running the ball consistently. The Vikings had 95 yards on just 13 carries at New England, then got behind and had to get away from the run game. They 29 carries for 91 yards in a win over the Packers, and just 14 carries for 22 yards in the loss at Chicago.
For the season, the Vikings are 31st in the NFL with 21.6 rushing attempts per game. They're averaging 3.6 yards per carry. They're third in passing attempts with more than 40 per game. Cousins has a 98.4 rating on the season, 11th in the NFL.
"I just want to win football games, and I don't really care how we do it," Cousins said.