Vikings-Falcons: How to watch Minnesota vs. Atlanta on Sunday, Nov. 5
MINNEAPOLIS (FOX 9) - The Minnesota Vikings play the Atlanta Falcons on Sunday, Nov. 5 — a game you can watch on FOX 9. 
The Vikings, 4-4, will play the Falcons, 4-4, on Sunday, with kickoff set for noon. Before the game, FOX 9 has you covered with Vikings GameDay Live from 10-11 a.m. on FOX 9, and streaming on your smart TV via the free FOX LOCAL app, on FOX9.com, your phone app and in the player above.
Even if you're outside the designated market area to watch the game on FOX 9, you can still catch Vikings GameDay Live on FOX LOCAL, as well as streaming. 
Then, after the game, tune into the Vikings Postgame Tonight at 10:35 p.m. and listen and watch FOX 9's new Vikings Now podcast wherever you get your podcasts, as well as streaming on-demand on FOX LOCAL, FOX9.com and YouTube.
It's been a busy week for the Vikings, who have climbed out of an 0-3 hole to start the season and won four of their last five games to get back to 4-4. Kirk Cousins is out for the season after suffering a torn Achilles at Green Bay. With Nick Mullens on IR, rookie Jaren Hall will get the start at Atlanta. The Vikings also traded for Cardinals' quarterback Josh Dobbs on Tuesday, and sent offensive lineman Ezra Cleveland to the Jacksonville Jaguars for a 2024 sixth-round pick.
What time does the Vikings-Falcons game start?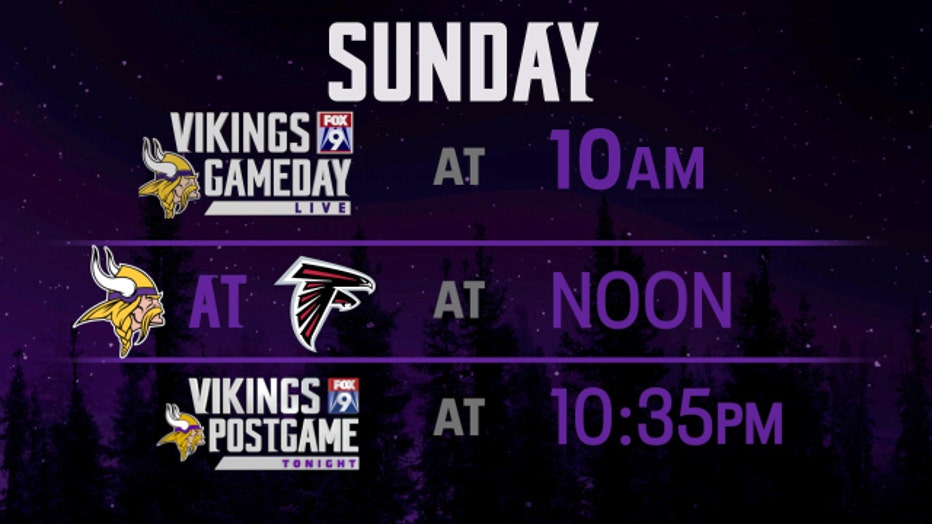 What: Minnesota Vikings vs. Atlanta Falcons
When: Kickoff is at noon on Sunday, Nov. 5
Where: Mercedes Benz Stadium
How can I watch the Vikings game? 
Best Vikings bars
Looking for a bar or restaurant to watch the game? Here's our list of the best bars for Vikings games on Sundays.