Twins fall to Rays 5-2 in marathon 18 innings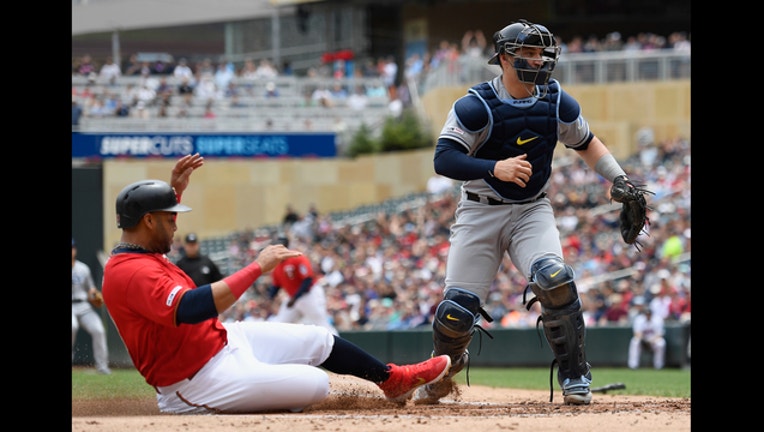 article
MINNEAPOLIS (FOX 9) - Minnesota Twins manager Rocco Baldelli admitted his mind was a little foggy after an 18-inning, near six-hour marathon 5-2 loss to the Tampa Bay Rays Thursday at Target Field.
With more than 31,000 in attendance and a 57-minute rain delay before a pitch was even thrown, the Twins and Rays combine for 16 scoreless innings before Ryne Harper allowed three runs in the top of the 18th. The Rays avoided a series sweep with an inning that included a lead-off walk, a hit batter, an infield single, a sacrifice fly and two more run-scoring singles.
Even starter Kyle Gibson made an appearance in the 17th inning, and was one of eight relief pitchers to have clean innings before Harper's struggles. The loss came eight days removed from the Twins' 17-inning, 4-3 win over the Boston Red Sox.
"It's remarkable, it's a little bit unfortunate, it's a little bit beautiful, it's a little bit of everything. We saw both sides of it. When you play those games and you come out on top, there are few better feelings. When you don't, it's a long day," Baldelli said. "It is pretty amazing that you can play two games like this. I've personally never seen anything like it first-hand."
It's a safe bet they don't want to see anything like it for quite some time. Baldelli will have some roster shuffling to do after using every pitcher the Twins had available Thursday. They were also without Eddie Rosario, who injured his ankle early in Wednesday night's win. Marwin Gonzalez remains out with a hamstring injury, Byron Buxton is out with a wrist injury, Ehire Adrianza is out with an abdominal issue and Willians Astudillo went on the injured list Thursday with an oblique strain.
The Twins (52-28) are hopeful Rosario's injury isn't serious, and Gonzalez, Buxton and Adrianza are all expected to return soon.
Thursday's 18-inning loss differed from their 17-inning win over Boston on June 18 in more than just the final score. The Twins didn't have many scoring opportunities against the Rays after the second inning.
The Twins got on the board in the bottom of the first after Jorge Polanco, who learned Thursday he will start at shortstop in the All-Star Game, bunted for a hit and advanced to third on a Nelson Cruz single. Polance scored on Mitch Garver's RBI groundout. Luis Arraez singled to right and Cruz was sent home. He would've been out at the plate, but the catcher couldn't handle the throw.
The Twins had two on with nobody out in the sixth. But C.J. Crown flew out, and Jonathan Schoop grounded into an inning-ending double play.
Similar story in the bottom of the 13th. Polanco hit a 1-out ground-rule double to center and Cruz was intentionally walked, but Garver hit into a 4-6-3 double play to end the threat. He slammed his helmet to the ground in frustration.
It was a frustrating day for Twins' hitters. They struck out 22 times on the day, setting a franchise record for Rays' pitchers. The Twins managed just nine hits in 60 at bats Thursday, and Cron, Schoop, Jake Cave and Miguel Sano went a combined 3-for-27 with 10 strikeouts.
Batting leadoff, Max Kepler was 0-for-8 with four strikeouts.
"Being the home team and being able to score that last run that we couldn't quite get through, it's frustrating. The longer that game goes, the more frustrating it is for the home team," Cron said.
The Rays took advantage of a tired Twins' bullpen with three runs in the top of the 18th off Harper, who was pitching for the third straight day. Minnesota relievers had thrown 10 shutout innings up until that point.
Despite the loss after a 5 hour, 42 minute marathon, Baldelli was encouraged by his team's effort and approach. That includes Sano's diving stop at third in the top of the 10th that got Blake Parker out of a bases loaded jam.
"Do we win every game? No. Did we win tonight? No. But I think we're proud of the way we went about it," Baldelli said.
The Twins used 10 pitches in Thursday's loss, the longest game in Target Field history by innings. It also spoiled a positive effort on the mound from Martin Perez, who allowed two runs over seven innings with six strikeouts over 102 pitches. He retired 16 straight hitters at one point.
The Twins now take an eight-game lead in the AL Central to Chicago for a three-game series before heading to Oakland for three games early next week.