Timberwolves snap losing streak with win over Warriors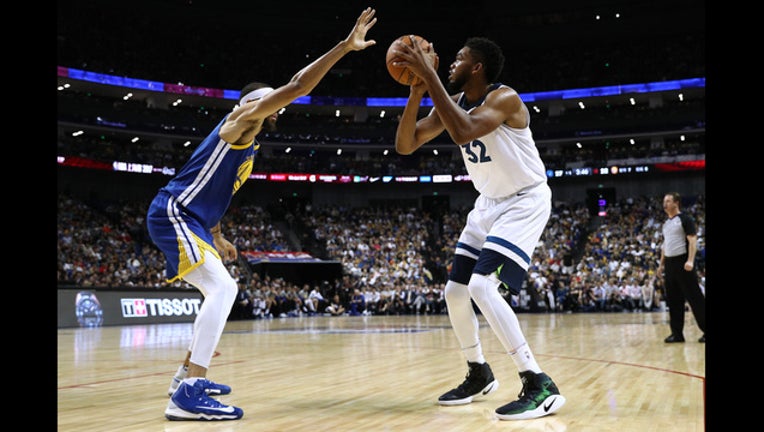 MINNEAPOLIS (AP) - Karl-Anthony Towns helped Minnesota stop a season-longest three-game losing streak with 31 points and 16 rebounds, and the Timberwolves powered their way past Golden State down the stretch for a 109-103 victory on Sunday to hand the Warriors their second straight defeat without Stephen Curry.
Kevin Durant had 39 points and 12 rebounds for the Warriors, who left Curry at home from this road trip to rest an injured right ankle and lost 125-108 to Portland on Friday.
Andrew Wiggins added 23 points for the Timberwolves, who lost twice on the road to the defending champion Warriors earlier this season by a combined 37 points. Curry had a collective plus-36 rating over those two games.
With their spot in the ultracompetitive Western Conference standings slipping while All-Star Jimmy Butler recuperates from right knee surgery, the Wolves needed this win in the worst way in the thick of a daunting stretch of their schedule.
Towns made his All-Star presence felt when it mattered most, swishing a 3-pointer with 5:54 left to give the Wolves a 99-92 edge for their largest lead since early in the second quarter. He had 14 points in the fourth period alone, knocking down a floater from the lane with 2:18 to go; a fadeaway with 1:08 remaining; then a layup follow of his own miss with 37.5 seconds left to put the game away. He held out his long arms and cupped his hands to encourage the crowd as the last seconds ticked off the clock.
Klay Thompson had 21 points for the Warriors, but he went 3 for 12 from 3-point range. Draymond Green added 10 points, eight rebounds and seven assists, but he had trouble defending Towns down low. Zaza Pachulia pitched in 16 points and 11 rebounds, but without their catalyst, Curry, the Warriors weren't the same.
The Wolves displayed some of their sharpest ball movement since Butler went down, fueling an early lead that rose as high as 11 points late in the first quarter. Coach Tom Thibodeau then initiated Derrick Rose's debut in an extra-small lineup next to Tyus Jones and Jamal Crawford, and, coincidentally or not, the Warriors immediately took control.
Over the 6:48 stretch Rose was in the game as the shooting guard, the Wolves were outscored 27-10. After losing the ball on a drive to the lane that led to a fast break for Warriors, Rose lost track of Livingston and gave up an uncontested dunk on the other end before Thibodeau called a timeout with the Wolves trailing 44-38.
Durant and Green each knocked down a pair of 3-pointers in the second quarter, and, thanks in part to an 18-4 first-half edge in fast-break points, the Warriors built a lead as big as 57-45. The Wolves whittled away at it right before the break and kept up the comeback after halftime. Wiggins in particular was more aggressive than he's been lately, including a pull-up jumper just before the third-quarter buzzer that tied the game at 84.