Timberwolves' season ends with 122-104 loss to Rockets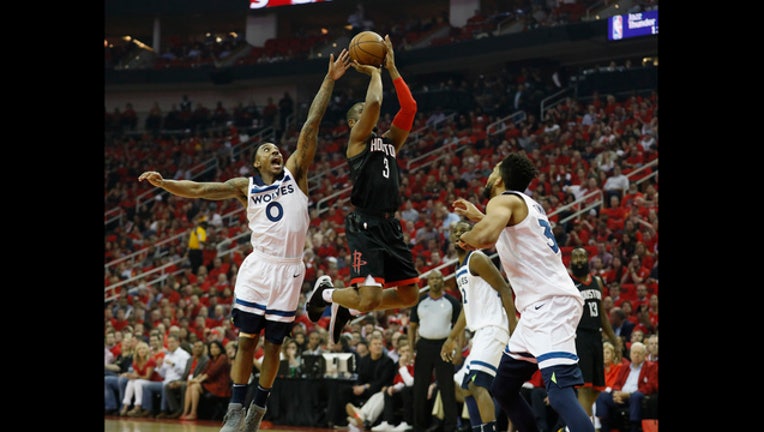 HOUSTON (AP) - Clint Capela had 26 points and 15 rebounds, James Harden added 24 points and the Houston Rockets pulled away in the third quarter to get another lopsided win and eliminate the Minnesota Timberwolves with a 122-104 victory in Game 5 of the first-round series Wednesday night.
The top-seeded Rockets are headed to the second round for the second year in a row after taking care of the eighth-seeded Timberwolves. Minnesota was in the postseason for the first time since 2004.
Houston will await the winner of the Utah-Oklahoma City series, which the Jazz lead 3-2 after the Thunder rallied from a big deficit Wednesday night to avoid elimination.
After scoring 22 points in Houston's 50-point third quarter in a Game 4 blowout Monday night, Harden poured in half of Houston's 30 points in the third quarter on Wednesday night to put the Rockets up for good. His 15 third-quarter points matched Minnesota's output in the frame and he finished with 12 assists.
Karl-Anthony Towns led the Timberwolves with 23 points and 14 rebounds, and Jamal Crawford added 20 points off the bench.
Andrew Wiggins scored the last four points of the third quarter to cut the lead to 85-74 entering the fourth quarter. The Rockets used a 7-2 spurt, highlighted by a 3 from Ryan Anderson, to start the fourth and make it 92-76 with 9 1/2 minutes left.
A basket by Derrick Rose got Minnesota within 14 later in the fourth when Houston went on a 10-4 run to push the lead to 108-88 with less than five minutes to go.
The Wolves got consecutive 3s by Jamal Crawford and Wiggins to cut the lead after that, but the Rockets scored the next five points to end that run and cruise to the victory.
The Rockets opened the second half with a 10-2 run to erase a halftime deficit and take a 65-61 lead with about nine minutes left in the third. Chris Paul, who finished with 12 points and nine assists, had four points in that stretch and Harden and P.J. Tucker added 3-pointers.
Minnesota scored the next five points to go back on top, but Harden scored five quick points after that to leave the Rockets ahead 70-66. Harden, who had just five points at halftime, hit a 3 before throwing down a one-handed dunk over Taj Gibson that prompted Minnesota coach Tom Thibodeau to call a timeout.
The timeout didn't do anything to slow Harden and the Rockets down, and he added another 3 on Houston's first possession after the timeout.
Towns added a basket after that before Houston scored the next eight points to extend the lead to 81-68 with 2 1/2 minutes left in the quarter.
Things got a little testy after that when Crawford pushed Paul to the court and stood over him jawing. Paul got to his feet and got in his face, but the two were quickly separated and Crawford was given an offensive foul and a technical