Timberwolves boss on Karl-Anthony Towns: 'He'll be out there when he's ready'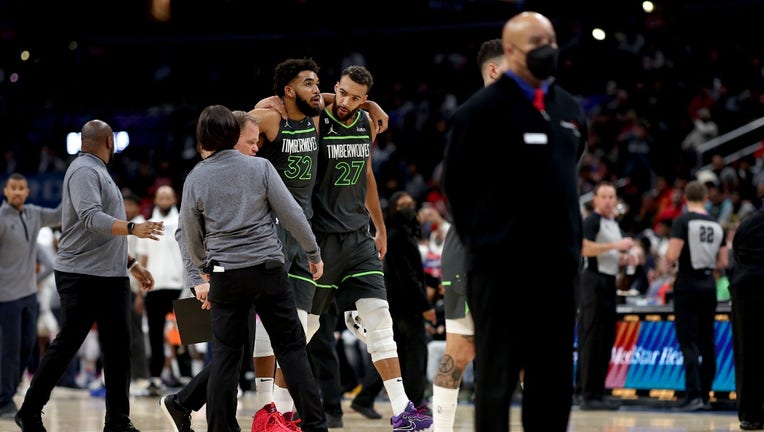 article
MINNEAPOLIS - Minnesota Timberwolves front office head Tim Connelly took the radio airwaves on Tuesday to try and clear up and uncertainty surrounding star Karl-Anthony Towns and his calf injury.
Towns was not on the bench Monday night as the Timberwolves took the Sacramento Kings to overtime, but had a three-game win streak snapped in a 118-111 loss. Towns was actually in the team's locker room with Connelly, watching the game on TV.
Connelly spent nearly 40 minutes on KFAN Radio Tuesday afternoon with Dan Barreiro, trying to clear up any uncertainty around Towns among several Timberwolves; talking points. He's missed the last 32 games with a right calf strain, suffered in late November at the Washington Wizards. ESPN's Adrian Wojnarowski originally reported Towns would miss four to six weeks. It's now been more than two months, and there's no sign that the Wolves' star is returning any time soon.
In clear frustration, Towns even spoke on a recent video game stream that the four to six week timeline wasn't realistic.
"Thank God I'm not on social media. I think we've been consistent, it's just indefinite. When a guy gets hurt, all we care about is a guy getting healthy. We don't care if it takes a day or it takes a year, and someone as important as KAT and a guy that's a real foundation for our organization, we just want to get him healthy," Connelly told Barreiro. 
Connelly was at the game against the Washington Wizards when Towns went down. Trying to run back down the court after a basket, he grabbed at his right calf and immediately went to the floor. The immediate fear was an Achilles injury.
"We feared the worst. I was walking down the hallway with one of the attending physician, he feared the worst. I think we dodged a bullet, but it doesn't minimize what was a really nasty calf strain," Connelly said. "I'm pretty confident that we never gave a timeline, but KAT has been great. The consistent message to Karl is it's his body, we've got to make sure you're right, we can't rush the process and we've got to make sure you feel really good about how you're going to get there."
To complicate matters, Towns posted a picture of himself in a walking boot to social media on Sunday. Timberwolves' coach Chris Finch said Monday there haven't been any setbacks, and "It's just part of the process." Towns will miss his 33rd straight game Wednesday night, as the Timberwolves host the Golden State Warriors at Target Center.
Connelly said there is no disconnect between Towns and the Timberwolves. He fully expects his star forward to return this season. The Timberwolves are eighth in the West with 29 games left before the playoffs.
"There's disappointment we don't have one of our horses out there. We're lock step and when anybody gets hurt, we want to ensure that we're doing everything to make sure they come back a close to 100 percent as possible," Connelly said. "You can't rush those things. We all want the same thing, get him back out there fully-healthy as soon as possible. We've got to get fully-healthy first."