Takeaways: Gophers beat Bethune-Cookman 80-60 to open 2023-24 season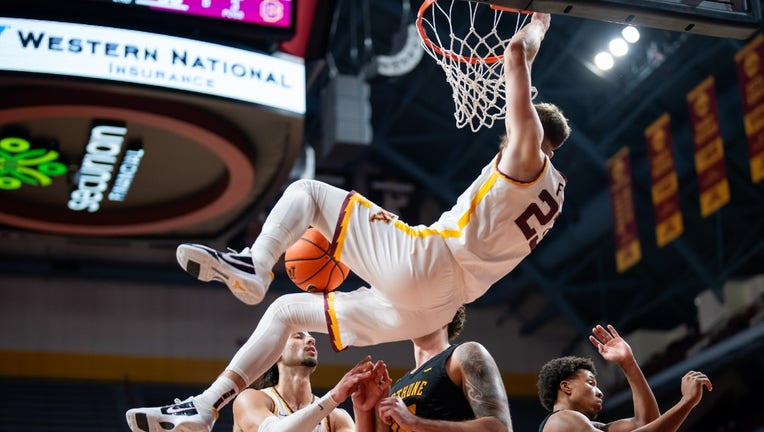 article
MINNEAPOLIS (FOX 9) - The University of Minnesota men's basketball team got the 2023-24 season started Monday night with an 80-60 win over Bethune-Cookman at Williams Arena.
The Gophers controlled the game from the opening tip before things got a little stressful in the second half, but Minnesota eventually pulled away for a comfortable win. That comes on the same night that No. 4-ranked Michigan State lost at home in overtime to James Madison.
Ben Johnson enters his third year with the Gophers, and it's a pivotal one after going 22-39, and just 6-33 in Big Ten play the last two years. If there isn't dramatic improvement shown this year, some changes might be on the horizon. Here are takeaways from Monday's win.
DAWSON GARCIA IS THE STANDARD
The Gophers will go as far as Dawson Garcia can take them. He battled threw a few injuries last year, but is healthy now and has taken on a greater leadership role. Monday night, he led all scorers with 23 points, added 14 rebounds and six assists. He went 14-of-16 at the free-throw line, many when the game got uncomfortable in the second half.
If Garcia can put up double-doubles with regularity, that bodes well for Minnesota this season.
BEN JOHNSON FINALLY HAS DEPTH
We get that it's Bethune-Cookman, but you never have to apologize for a win. Ben Johnson can finally practice with a full team after being hampered by injuries the last two seasons. Ten players saw court time Monday night, eight scored and three were in double figures. Johnson can legitimately go nine deep in his rotation right now, and that's without talented freshman Cam Christie as he works his way back from illness. Pharrel Payne only played 16 minutes as Bethune-Cookman went small in the second half.
Johnson has options, which he couldn't say in his first two seasons.
SLOPPY SECOND HALF
The Gophers came out and immediately took control, grabbing a double-digit lead early. They led 46-22 at the half, then things got sloppy. They turned the ball over, took some bad shots and saw a 24-point lead get to as few as 10. They finished with 17 turnovers and shot just 29 percent from the perimeter, including 0-for-7 in the second half, so that will need to be cleaned up.
PARKER FOX, ISAIAH IHNEN OFFICIALLY RETURN
Monday night was a moment Parker Fox had been waiting for since he transferred to Minnesota from Northern State two years ago. The Mahtomedi native battled through two torn ACLs and got his first official game action with the Gophers Monday. He finished with seven points, one rebound, one assist and one steal in 15 minutes. His highlight game in the second half, beating a defender baseline and finishing a thunderous two-handed dunk. It's something he's been wanting to do ever since coming to the Gophers.
Isaiah Ihnen also returned for the first time since two years of knee injuries. He had eight points, four rebounds, two assists and three steals in 22 minutes. He went 1-of-2 from the perimeter. It's good to see them both healthy again.
HAWKINS, MITCHELL SHINE IN GOPHERS DEBUTS
Johnson has made a clear upgrade in the backcourt this season, getting Elijah Hawkins and Mike Mitchell Jr. out of the transfer portal. Hawkins, who led Howard to the NCAA Tournament last year, had 10 points, two rebounds and two steals in 25 minutes. Mitchell, from Pepperdine, had six points, five rebounds and four assists in 30 minutes off the bench. The two combined for 30 points in last week's exhibition against Macalester.
The Gophers had 15 fast break points and got 21 from their bench Monday night. They also had 38 points in the paint. Next up? Texas-San Antonio Friday night.