Reports: Vikings in 'driver's seat' for Kirk Cousins, but QB won't visit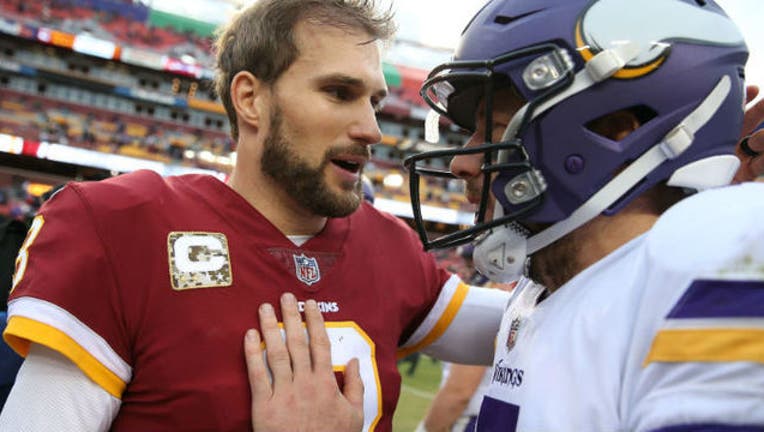 article
MINNEAPOLIS (KMSP) - The NFL free agency frenzy is underway. As of 11 a.m. CT Monday, NFL teams were permitted to make contact with free agent players. In Minnesota, all eyes are on quarterback Kirk Cousins. Here's the latest from NFL insiders:
NFL Network's Ian Rapoport says the Minnesota Vikings have been considered to be "in the driver's seat" for Cousins. Rapoport says Cousins is expected to take at least one, and maybe two, visits before signing a deal.
NO VISITS FOR COUSINS? But ESPN's Diana Russini reports Cousins isn't planning on taking any visits. Russini says the Vikings, New York Jets and Arizona Cardinals will be putting together video presentations and recruiting pitches for Cousins.
MARCH MADNESS: Rapoport says Cousins won't finalize a deal until he meets with coaches, setting a timeline of Wednesday or Thursday for a signing day. Rapoport reports at least two teams are prepared to offer Cousins a three-year, fully-guaranteed contract that would make him the highest paid quarterback in the NFL.
When Fox 9 visited the new Vikings team headquarters last week, one team official anticipated a Thursday or Friday news conference if a deal were to be reached this week.
COUSINS BIDS FAREWELL TO WASHINGTON: Kirk Cousins posted a blog on his website Monday afternoon, telling fans, "As I'm about to make one of the bigger decisions of my life, I'll be saying goodbye to my familiar life as a Redskin. After calling Washington home for the past six years, the team has decided to move on to another option and, in turn, my family and I will be moving on as well...Knowing I will not be putting on a Redskins jersey next season, it's hard to look back at all that's taken place and not become emotional. I will forever be grateful to Mike Shanahan for taking a chance on me in the 2012 draft. At the time, many people saw his selection as foolish. Time proved otherwise and taught me that there are no guarantees in this business -- if you work hard and learn from your mistakes, good things can happen. For the first time in 11 years I will participate in choosing where I play. Having said this, I would not trade the past decade for anything."
WHAT ABOUT KEENUM AND BRADFORD? NFL Network's Tom Pelissero reports the Vikings have stayed in touch with Sam Bradford on a possible return to Minnesota, and plan to speak with Case Keenum's agent. But Pelissero points to the Buffalo Bills as a team that could have interest in both Keenum and Bradford.