Plymouth native Race Thompson has pre-draft workout with Timberwolves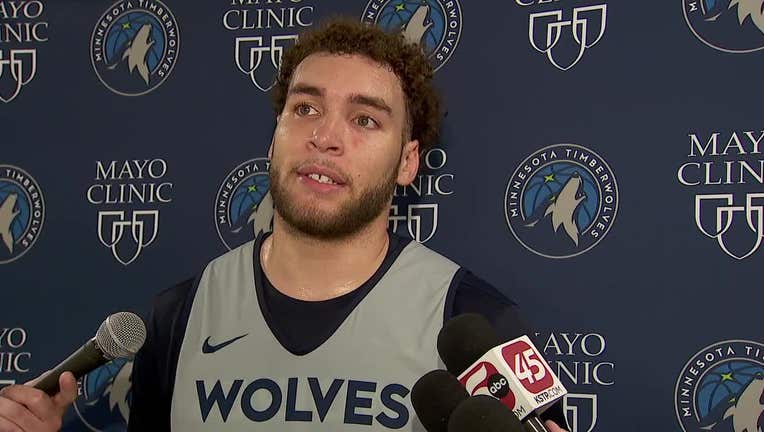 article
MINNEAPOLIS (FOX 9) - Race Thompson was wide awake at 7 a.m. and couldn't take the smile off his face as he put on a Minnesota Timberwolves jersey Friday morning at Mayo Clinic Square.
The former Robbinsdale Armstrong and Indiana standout hit the court for a pre-NBA Draft workout with the Timberwolves, a team he grew up watching and idolizing players like Kevin Garnett and Kevin Love. It was his third pre-draft workout, as he's already visited the Brooklyn Nets and Washington Wizards.
The Plymouth native realizes it might be a long shot for him to get a phone call at next Thursday's NBA Draft, but he's hoping the organization takes him on as an undrafted free agent and gives him a chance at the NBA Summer League.
"That'd be a special moment for sure. A dream come true, I've been working my whole life at it, just having the opportunity to play in the summer league, get picked up by a team would be just a blessing," Thompson said.
Thompson came back for a sixth year at Indiana last season under Mike Woodson, who came to the Hoosiers with experience coaching in the NBA. Thompson made 29 starts and averaged 8.4 points, 5.2 rebounds, one assist and one steal per game, and shot nearly 50 percent from the field. He was also a team captain.
At 6'8" and 236 pounds, he considers himself a small forward and a "glue guy" who tries to do the little things to win games. He knew he had a shot to play basketball at the highest level going back to his freshman year at Armstrong, where he possessed the skill to handle the ball and score while also being bigger than most opponents.
He'll spend time with family and friends next week, hoping to get a life-changing phone call.
"Hopefully get a phone call from somebody and get ready to go out to Vegas for Summer League is the goal. Whatever it is, it's really just about the journey and embracing your path. Everybody's path is different, I know that," Thompson said. "For me, you're going to get someone who works really hard and that's what I came here to show today. I'm just hoping someone gives me a chance, because all it takes is a chance."