Pitino: Bracketology is 'dumbest thing on planet'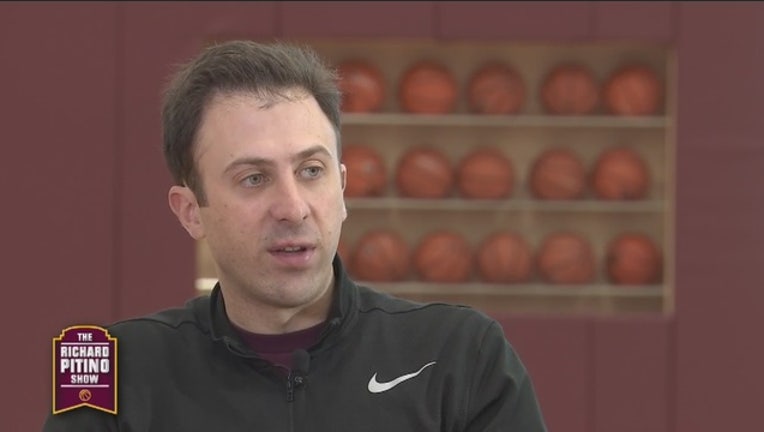 MINNEAPOLIS (FOX 9) - It would be an understatement to say Richard Pitino isn't a fan of NCAA Tournament projections.
"I think the dumbest thing on the planet is to talk Bracketology in mid-January," Pitino said Tuesday, the morning after his team's 59-57 loss at No. 5-ranked Michigan.
Pitino will have to issue his apology to ESPN's Joe Lunardi, Mr. Bracketology, later.
But Pitino isn't wrong in his bold stance. While March Madness bracket projections make for interesting fodder on ESPN and other national sites, they're essentially meaningless until Selection Sunday. Projections change weekly, if not daily, during the college basketball season. Teams go on win streaks, they go on losing skids and key players get hurt.
So many factors go into predicting if a team will make the Big Dance, and if it does, how far it will get. Pitino has been to the NCAA Tournament once in his now five-plus seasons. The Gophers were a No. 5 seed two seasons ago after winning 24 games in the regular season. It ended in a first-round loss to Middle Tennessee State.
National experts have predicted so far that as many as nine or 10 teams from the Big Ten will make this year's Big Dance. The Gophers dropped to seventh in the Big Ten after Tuesday's loss at Michigan on a Charles Matthews baseline jumper that barely beat the shot clock and went in as time expired.
They're 14-5, 4-4 in the Big Ten. Pitino doesn't talk about the NCAA Tournament with his players, nor does he about the path to get there. All he can control is how the Gophers play on a daily basis.
"It's such a long season, I just talk about playing the right way. If we play the right way, if we win at home, steal a couple on the road, we've already been able to steal one at Wisconsin with a lot of unbelievable opportunities in front of us, we'll see where it all goes," Pitino said.
The good news is the Gophers are 9-1 at Williams Arena this season with Iowa in town Sunday, then Illinois Wednesday night. The Hawkeyes are 2-2 away from home this season. Illinois is 0-5 on the road.
The two games are ones the Gophers need to keep themselves in the top half of the Big Ten at the midpoint of the league season. The three games to follow are at Purdue, home against Wisconsin and at Michigan State. That's three out of the next five at The Barn.
The Gophers haven't been ranked all season in either the Associated Press Top 25 or the USA Today Coaches Poll. The best they've done is "others receiving votes."
So what does Pitino pay attention to in terms of rankings? Ones that involve analytics that he can apply to his players on how they can improve.
Stat guru Ken Pomeroy releases weekly rankings based on offensive and defensive efficiency. Minnesota is currently 62nd overall. They're No. 82 in offensive efficiency, and No. 62 in defensive efficiency.
In the Sagarin rankings, which factor in efficiency as well as overall strength of schedule, the Gophers are currently No. 54. In the newest ranking, the NET ranking created by the NCAA, Minnesota is 60th. That's actually a six-spot improvement after losing a close game at Michigan Tuesday night.
In the NET rankings, you get placed by how you play and the margin of winning or losing more so than who you're beating or losing to.
"It's interesting because if you look at KenPom, winning doesn't necessarily matter. It used to be about wins, wins, wins. Now it seems like it's about how you win, even more so how you play," Pitino said before the Gophers won at Wisconsin.
The Gophers' quality wins so far are highlighted by the win at Wisconsin. The others include Washington in the Vancouver Showcase, Oklahoma State and Penn State. Pitino says the remainder of Minnesota's schedule allows for up to 10 or 11 more Quadrant 1 wins. It's the biggest factor the NCAA Selection Committee looks at for both selecting the 32 at-large teams and their seeding for the Big Dance.
It's what makes losing a close one at Michigan tough, but getting blown at Illinois, one of the worst teams in the Big Ten, a bad loss on the resume.
"These games as much as I think it's silly when people get more mad over a 20-point loss versus a 1-point loss, at the end of the day it's a loss," Pitino said. "You've got to learn, it's an opportunity to grow and learn. I thought we grew from the Illinois game. To go into Michigan and have a chance to win, to beat Penn State at home was important. We've just got to continue to get better."
Pitino understands why Bracketology exists. There are trends to monitor, bubble teams to follow and a conference's depth to keep an eye on. But the fact is it changes constantly until Selection Sunday, because teams suffer bad losses or get quality wins every week. It's the nature of college basketball.
So as far as those projections he doesn't care for? In Joe Lunardi's latest Bracketology, he has the Gophers as one of the "last four in" as a No. 11 seed and playing Arizona State, with the winner advancing to play Villanova. Jerry Palm, a CBS Sports Bracketologist, has the Gophers comfortably in as a No. 8 seed playing Seton Hall in the first round. The winner would get No. 1 seed Duke.
If Pitino had his way, there wouldn't be any rankings until February. So no, you won't hear him talking about the Big Dance publicly or to his players, any time soon.
"NCAA Tournament talk right now? I mean it's January," Pitino said.