Jefferson, defense lead Vikings to 23-7 win over Packers in Kevin O'Connell's debut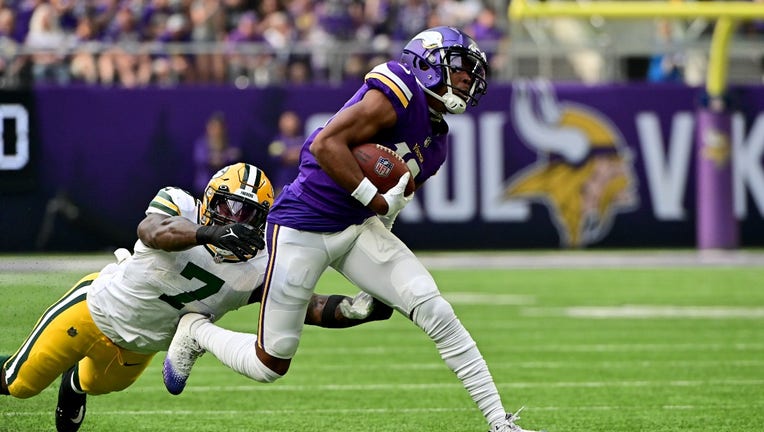 article
MINNEAPOLIS - The Minnesota Vikings couldn't have asked for a much better start in Kevin O'Connell's debut as a head coach.
Opening the 2022 season in front of a sold out crowd of more than 66,000 at U.S. Bank Stadium, the Vikings got big days from their top players on both sides of the ball in a 23-7 win over the Green Bay Packers. They start the season 1-0 with a- NFC North Division win over their biggest rivals.
After the win, there was plenty of celebrating in the locker room with the Vikings' ownership group, who brought in Kwesi Adofo-Mensah and O'Connell to overhaul the organization and bring a breath of fresh air. Quarterback Kirk Cousins gave both game balls in celebration, the first time in his career he's done so after a win.
"I believe strongly that everything kind of rises and falls on leadership. Those guys are our leaders, we're going to go where they take us," Cousins said after the win.
O'Connell didn't offer elaborate plans to celebrate his first win as a head coach, but did share a moment pregame on the field with his wife and kids to celebrate the day he's probably anticipated since getting into coaching.
"I cannot wait to see my family, but I've got news for you. I've learned the second you celebrate and start feeling yourself a little bit, this league has a funny way of humbling you. I'll be right back to work tomorrow," O'Connell said. "I was really just taking it all in, this is one I will not forget."
The day largely belonged to star receiver Justin Jefferson, and former Packers' edge rusher Za'Darius Smith.
Jefferson set a franchise record with six catches for 158 yards and a pair of touchdowns, in the first half. He wasn't done. Jefferson finished with nine catches for 184 yards, a new career-high, after not playing at all in the preseason.
"It felt like football again. I felt like a little kid today, just waking up this morning excited for the game. Especially for this type of rivalry, I live for these big games," Jefferson said. "Definitely excited to get out there and I'm glad I had this start."
Kirk Cousins was 23-of-32 passing for 277 yards, with both of his touchdowns to Jefferson, was sacked just once and finished with a 118.9 rating.
Smith, playing against his former team for the first time, led the defensive attack with a sack of Aaron Rodgers and a 4th down stop at the goal line to keep the Packers scoreless in the first half. Rodgers was sacked four times on the day, with others from Danielle Hunter, Jordan Hicks and D.J. Wonnum.
The Vikings contacted Smith in the offseason, wanting to add a pass rusher. His first question back – Was Danielle Hunter still on the team? Smith then called Hunter to deliver the good news. He's healthy again after missing most of last season with a back injury.
"It feels great. The energy was there, my teammates had my back and they knew what time it was. We got it done man and we're just so excited… I'm just glad that I get to use my ability to help this team win football games," Smith said.
Harrison Smith also got the first interception on Rodgers since Dec. 29, 2019, picking off a deep pass before the end of the first half. It was Smith's 30th career interception.
The Vikings didn't wait to set the tone offensively. Cousins hit Jefferson for a 4-yard score on the opening drive of the game to give the Vikings a 7-0 lead. They were facing a 4th-and-1 from the 4-yard line, and O'Connell didn't hesitate to go for it.
"I felt pretty strongly about that play call at that moment. About five seconds into it, I just said I love this call and we'll go get this thing in the end zone," O'Connell said. "We've got a really good football team and in my mind, I just have to make the best decisions in the moment for me and make sure I put our guys in position to have success."
"I think it's just trying to make the best football decision to win the game. It's been a successful play for us in practice, and it worked for us today," Cousins said.
Cousins connected with Jefferson again on a 36-yard touchdown pass for a 17-0 lead with 33 seconds left in the first half, and the star receiver went to the sideline hearing "MVP" chants. He found himself wide open over the middle, and won a race to the pylon.
The Vikings created a turnover to open the second half, as Hicks and Hunter met at Rodgers for a sack and fumble, which Dalvin Tomlinson recovered. Minnesota got three points off it with a 56-yard field goal from Greg Joseph.
The Packers' only points of the day came in the third quarter, on a short run from A.J. Dillon. Rodgers finished the day 22-of-34 for just 195 yards, one interception, one fumble, no touchdowns and a 67.7 rating.
Jefferson said in the offseason he wants to be considered the best receiver in the NFL. He's off to a good start after having a career day Sunday, with many of the concepts that O'Connell used to get Cooper Kupp MVP consideration last year. That's after coming 17 yards shy of a single-season record last year.
"I've been saying it this whole time about how we were all excited about this new team, having all of these new guys in the building, new coaches in the building. Definitely feels good so far. No better way than to start it off with 180, right?" Jefferson said.
O'Connell's head coaching debut featured the Vikings piling up 391 total yards, 19 first downs and Cousins hitting seven different receivers. Joseph also converted three field goals from 28, 56 and 29 yards out.
The Vikings' defense limited the Packers to 338 total yards, 3-of-9 on third down, 0-of-2 on fourth down, had Rodgers frustrated all day and forced two turnovers. A defense that's been among the worst in the NFL the last two seasons looked the part on Sunday.
"We set out a long time ago on this journey from the offseason program into training camp, all the way through this last couple weeks of preparation with the mindset on today. To watch them take that plan and bring it to fruition, I don't know if I've had a more gratifying moment just because of the looks on their faces," O'Connell said. "For the first time out I do know one thing, I love this team and I love this coaching staff."
For the first time since the end of the 2019 season, a stretch that marks 987 days, Minnesota is above .500. The Vikings are 1-0 heading to Philadelphia next week for Monday Night Football.