Gophers pound Eastern Michigan 25-6 behind Darius Taylor, improve to 2-0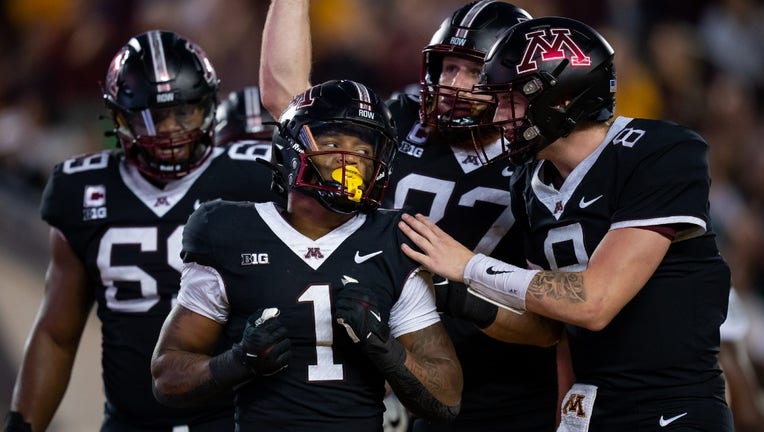 article
MINNEAPOLIS (FOX 9) - The University of Minnesota football team improved to 2-0 on the season with a 25-6 win over Eastern Michigan Saturday night at Huntington Bank Stadium.
Their path to getting there was far different than last week's 13-10 win over Nebraska to open the season. Athan Kaliakmanis threw for 196 yards and tied the game with a touchdown pass in the fourth quarter. Saturday night, the Gophers went to the ground-and-pound approach to beat the Eagles.
They grinded out a win, running for nearly 300 yards after a slow start offensively in the first half. The Gophers entered the night 20-point favorites.
"I love how we're getting to the point of when we win, we win by 19 and some of us will say that's not by enough. I love that, and that tells a coach there's a lot of room for improvement," Gophers coach PJ Fleck said after the win. "Winning is really hard, there is no such thing as a bad win. I'll never allow that in our program, I'll never say that. We'll talk about getting better tomorrow."
With Bryce Williams out due to injury, freshman Darius Taylor and transfer Sean Tyler had a combined 50 carries for 286 yards. Taylor had 33 carries for 193 yards and a second quarter touchdown that gave Minnesota a 10-3 lead. In just his second career game, Taylor came just shy of breaking the Gophers' single-game rushing record by a freshman, set by Darrell Thompson.
Taylor said after the win he added 17 pounds to his frame to be ready for Big Ten football as a freshman.
"I feel like coaches gave me a good opportunity to make plays. I knew coming into the University of Minnesota that I came into play," Taylor said. "The team really helped me and carried me along all through camp, keeping my head up, keeping me strong, leading me through practices. The O-line and tight ends were a big part of tonight."
Tyler had 17 carries for 93 yards. Kaliakmanis added a quarterback sneak for a score that gave the Gophers a 20-6 lead late in the third quarter. Taylor added two catches for 13 yards, and 206 total on 35 touches, in just his second college game.
Fleck said the Gophers were committed to running the ball against Eastern Michigan after rushing for just 55 yards against Nebraska.
"We were going to find out with Sean Tyler, with Darius Taylor, we have got to establish a running back. We were committed to the run game tonight, period," Fleck said. "We're putting a true freshman in, I have no idea how he's going to handle that. Now we know what he can handle. Darius showed what he could do, that's why he was such a big recruit for us."
"Whatever it takes to win the game, and today we needed the run more. We're going to do what it takes to get the job done," Kaliakmanis said. "I'm super happy for (Taylor), he's worked extremely hard. He got here and put on weight right away, that just showed me this guy is willing to do whatever it takes to play and win. You can see it when he runs, he wants it."
While the Gophers ran for more than five yards per carry and finished with 413 total yards, the defense held the Eagles to 152 total yards, pitched a shutout in the second half and got sacks from Kyler Baugh (2), Maverick Baranowski and Tre'Von Jones. The Gophers allowed four yards in the second half on 14 Eastern Michigan plays.
Minnesota's special teams unit even put some points on the board in the fourth quarter. Eli Mau blocked an Eastern Michigan punt, and Joey Gerlach recovered it for what appeared to be a touchdown. After a review, he had a foot out of bounds and it was ruled a safety for a 22-6 Gophers' lead with 8:51 to play.  
The big question going forward is the health of Brevyn Spann-Ford, who left the game in the fourth quarter with an injury after bobbling a pass that was intercepted. He was able to leave the field under his own power, but was in the injury tent for several minutes. The Gophers' defense erased the turnover with a Devon Williams interception.
Next up for the Gophers is a trip to Chapel Hill to face North Carolina. The Tar Heels needed double overtime to beat Appalachian State 40-34 on Saturday.