Depleted Gophers lose to Indiana 61-57, drop to 1-8 in Big Ten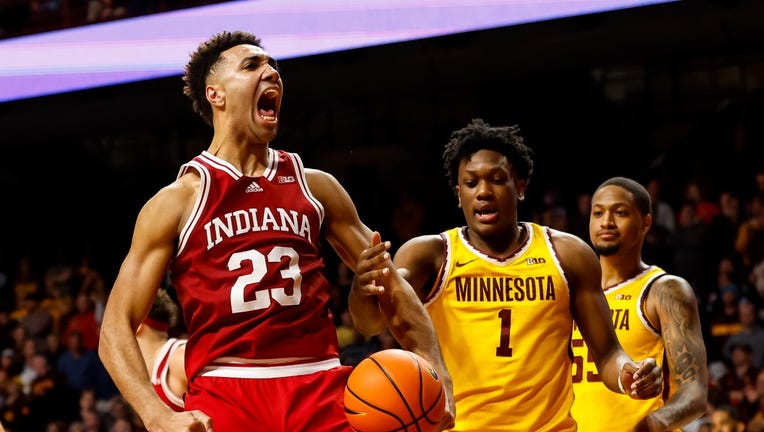 article
MINNEAPOLIS - Ben Johnson knew it would be a big ask Wednesday night. One starter out, two reserves injured and just seven scholarship players available against Indiana, a team pegged by many at the start of the season to contend for the Big Ten title.
The University of Minnesota men's basketball team nearly pulled off an improbable win over the Hoosiers, but lost 61-57 in front of an announced crowd of more than 9,200 at Williams Arena. The Gophers have lost four straight, and are 1-8 in Big Ten play.
Johnson and the Gophers entered the night without Dawson Garcia due to an ankle injury suffered at Michigan. Promising freshman Pharrel Payne sat out after being placed in the concussion protocol. Freshman guard Braeden Carrington is out at least three more weeks with a stress reaction in his leg.
Parker Fox and Isaiah Ihnen were lost in the offseason to knee injuries. To compound matters, Joshua Ola-Joseph went down with a calf injury late in the first half, played briefly in the second half and did not return. That left Jamison Battle, Ta'Lon Cooper, Taurus Samuels, Treyton Thompson and Jaden Henley to play the entire second half without a substitution.
With Garcia and Payne out, the Gophers had nobody to guard Trayce Jackson-Davis. The Indiana star and Big Ten Player of the Year candidate had 25 points and 21 rebounds, including a put back with 30 seconds to play off a Race Thompson missed free throw that gave the Hoosiers the lead for good.
"I thought we battled. I thought guys followed the game plan to a T. I thought they competed. To be able to do that knowing guys don't have subs and still be aggressive, my hat goes off to our guys," Gophers coach Ben Johnson said after the loss. "They just did a phenomenal job of playing on the attack. The thing I'm most proud of is just their fight and their toughness and their grit. They were scrappy. The will that they had to compete and give themselves a chance was well done."
Battle led a gutsy Minnesota effort with 20 points, shooting 4-of-9 from the perimeter, and grabbing five rebounds. Thompson, in his first start in nearly two months, had eight points and eight rebounds in 37 minutes before fouling out. It was by far his most game action of the season.
Minus Battle, the Gophers shot 1-of-16 from the perimeter. Minnesota also shot just 8-of-14 from the free-throw line. Henley, Cooper and Samuels combined for 21 points on 7-of-25 shooting from field. Cooper had a tough night, shooting just 2-of-14 and 0-of-6 from three-point range.
The Gophers trailed 33-30 at the half, and used a 9-2 run capped by a Samuels jumper to tie it 47-47 with 10:04 to play. They took their first lead of the second half on a Battle 3-pointer with 8:55 to play. Up 57-56, Thompson missed a 3-pointer that would've given Minnesota a two-possession lead with 59 seconds to play.
With no depth at his disposal Wednesday, Johnson used a zone defense to slow Indiana, and drained the shot clock on offense to shorten the game and limit possessions.
"It's just the same mentality. You've got to fight, you've just got to bring it every game regardless of who is out there. It's going to change, injuries happen, getting sick happens, it's just about you're going to war with the same people every day," Battle said. "There was a few soldiers down, you're still going to go out there with your head held high and you're going to give your best effort and work your hardest regardless of the outcome."
It's not the result Johnson and the Gophers wanted. Nobody likes to lose, but it's an effort they can build off going forward.
"We're going to compete and drill that in our guys the rest of the year and we're going to figure this thing out. But also you want to set the standard going forward. To be able to go through the good and the bad with a group that you're going to be able to bring back, all of these are reference points and teaching points," Johnson said. "You're able to talk about the standard because there's guys that have seen it and felt it. When you compete at the level we're asking you to, we have enough guys that are good enough to play at this level and be successful. The standard is there, and we have to figure it out."