Gophers star Mara Braun says busy summer of international basketball 'worth it'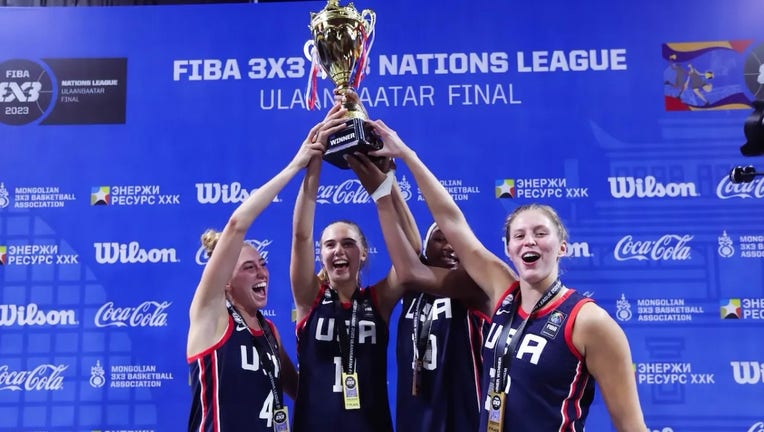 article
MINNEAPOLIS (FOX 9) - Mara Braun wants some day to play for USA women's basketball team in the Olympics, which could happen as early as next summer.
She might have gotten one step closer to that dream this summer. She played for Team USA in a 3-on-3 tournament for the FIBA Nations League. The first part was a qualifier in China, where Braun and her American teammates won their pod to advance.
With a break before the championship tournament in Mongolia, Braun joined her Gophers' women's basketball teammates on a foreign tour to Croatia and Greece. Then it was off to Mongolia, where Team USA went 6-0 to bring home a Nations League gold medal. They beat Spain 19-12, France 21-18 and Jordan 22-9 in pool play. Team USA got to the championship game, where they held off China 19-18.
"It was a little overwhelming to be honest with you. It all happened so fast I feel like and I was going from one place to another within the span of a couple weeks. It's been a lot, but it's been an amazing experience," Braun said Tuesday at Athletes Village. "It's all been worth it. I'm just glad we got it done."
Team USA got the go-ahead basket in that championship game with about four seconds to play. A desperation game-winning 3-pointer for China came up short, and Braun could celebrate with her teammates.
Braun was the co-leading scorer in that game with six points. She totaled 24 points over six games in pool play and bracket play. She said it meant the most playing for her country.
"That's the biggest part is just the USA across the chest. It's just a different feeling and especially winning with that across your chest and knowing I was representing not just the University, but the whole country," Braun said. "That was a pretty cool feeling, that alone definitely does boost confidence."
Her Gophers' teammates and coaches got up at 4 a.m. to watch the championship game, and she got to see the video via social media after.
"That was really cool, I was not expecting that. I didn't know they were doing that, so that really meant a lot to me and actually watching the video after it, kind of brought tears to my eyes," Braun said. "It's just a really cool thing, it means a lot more than you think."
Braun averaged 15.6 points per game as a freshman to lead the Gophers in scoring, and is now part of a sophomore class of Minnesotans that never wavered after Lindsay Whalen's departure, followed by Dawn Plitzuweit taking over the program. Braun said between playing with USA Basketball this summer and the team's foreign tour, she saw different parts of the world she would likely never go.
"I wouldn't have these opportunities without playing basketball and playing at the level that I do. It honestly makes it all worth it, it's just cool to be able to travel and play the sport that I love," Braun said.
She's taking some time off now to reacclimate, rest and get ready for the Gophers' season. They start practice later this month. But she did not shy away from wanting to be an Olympian. The 2024 Summer Olympics are in Paris, so does she have shot?
"That's my overall goal is I've always wanted to play in the Olympics. That's next year, so we'll see with that. I think playing in the Olympics would be a pretty surreal moment," Braun said