Jordan Nubin, Daniel Jackson lead Gophers to 27-12 win over Michigan State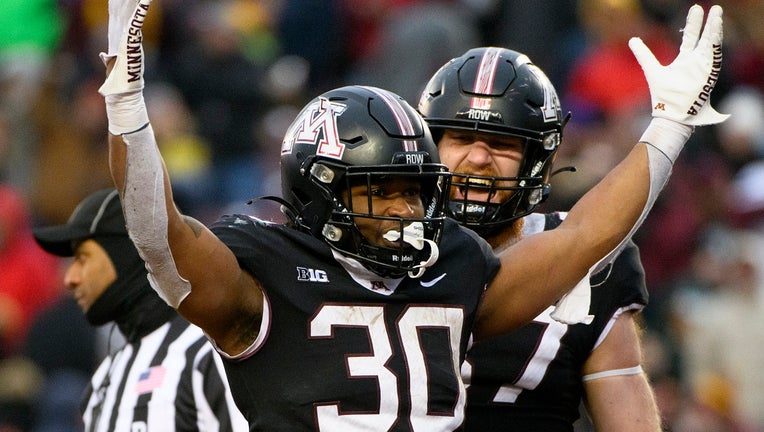 article
MINNEAPOLIS (FOX 9) - The University of Minnesota football team took "next man up" to an entirely new level in a 27-12 win over Michigan State on Saturday at Huntington Bank Stadium.
Jordan Nubin is the No. 5 running back listed on the offensive depth chart. He got the call against the Spartans with Bryce Williams, Darius Taylor and Zach Evans all injured, and Sean Tyler losing a fumble on the first offensive series. Nubin had 40 carries for 204 yards and two touchdowns as the Gophers improved to 5-3 on the season, and 3-2 in the Big Ten.
"We had to play as a family, we had to play as a team and ironically when you look at who played really well today, who made some of the biggest plays in the game, Jojo Nubin. Family," Gophers coach P.J. Fleck said after the win. "Fifth, six tail back, he was a safety last year and he runs for 204 yards. Just to show people to step in and be part of the family. Amazing performance from him. Says a lot about Tyler, says a lot about his mom and dad, they're a huge piece of this family here."
Normally when you hear the name Nubin with the Gophers, you think of Tyler, the super senior and All-American safety. Saturday, it was the redshirt sophomore Jordan, who came to Minnesota as a walk-on safety and took advantage of his chance with the running back room depleted. He had a career-high in rushing after entering the day with six carries for 25 yards this season. Tyler spent much of the day celebrating him on the sideline, even missing a few defensive meetings on the bench watching his younger brother run the ball.
The Nubin brothers room together in the team hotel the night before games.
"I told him what was going to happen today, I told him he was going to have like 200 yards and we was going to get interviewed after the game just like this. I don't like to break my promises so we had to go make it happen," Tyler said. "I'm so proud of this kid bro, it's been a long time coming. All he does is put his head down and work. He had to wait his turn a little bit, but I always knew he was ready for his shot."
"They do everything together. They're the embodiment of 'FAMILY', the definition of 'Forget About Me, I Love You.' They really embody that with each other," wide receiver Daniel Jackson said.
Jordan's first touchdown came from 18 yards out that gave the Gophers a 17-6 lead with 12:07 to play. Tyler sprinted down the sideline to celebrate his brother's first career score, then had to lock back in for the ensuing kickoff.
"Honestly it was such a surreal moment seeing him cross that goal line. I know what he's capable of, not a lot of people did. Just seeing that, I had a little big brother moment," Tyler said.
His second was from two yards out with 4:11 to play and gave Minnesota a 24-12 lead, all but sealing the win.
"It feels good to be out there with my team. I just love this game. It was definitely a big transition but at the end of the day, it's all worth it," Jordan said.
For Fleck, it serves as another reminder to his depth players to be ready. You don't know when your number will be called.
"You don't get to pick when that opportunity comes. He's always been ready for his opportunity," Fleck said. "He's not a guy that comes in my office and says 'Why am I not playing?' He's not a guy that's complaining about his playing time, he's not sitting there saying 'Man, I'm going to leave.' He's not doing any of that, he just works harder. He's one of the most beloved players on this team."
Athan Kaliakmanis was 14-of-22 for 200 yards, a touchdown to Jackson, a third quarter interception and lost a fumble on a sack on the Gophers' second offensive possession. Jackson finished with seven catches for a career-high 120 yards, and his 22-yard touchdown over the middle late in the first half gave Minnesota a 10-6 lead at the break after a slow start.
The Gophers lost fumbles on each of their first two possessions, but held Michigan State to a pair of field goals. Dragan Kesich also had a field goal blocked, but made two others and all three extra points.
On defense, Cody Lindenberg made his first start of the season after missing the first seven games and had three tackles, including a tackle for loss on about 40 snaps. Fleck said he was on a pitch count after working his way back from an undisclosed injury late in fall camp. The Gophers limited the Spartans to 299 total yards, 109 on the ground and 4-of-13 on third down. Jah Joyner added a sack fumble and recovery in the fourth quarter, and Tre'Von Jones' interception with 1:25 to play sealed the win.
Tyler had one more carry after losing the first quarter fumble, and caught one pass for an 8-yard loss when his knee was down after what should've been a 15-yard gain. The Gophers got the win despite losing the turnover battle 3-2.
The Gophers have now won two straight and remain in the Big Ten West conversation, hosting Illinois next Saturday. They can lock up bowl eligibility with a victory.