Gophers: Ben Johnson talks winning 'becoming everyday process' at Big Ten Media Days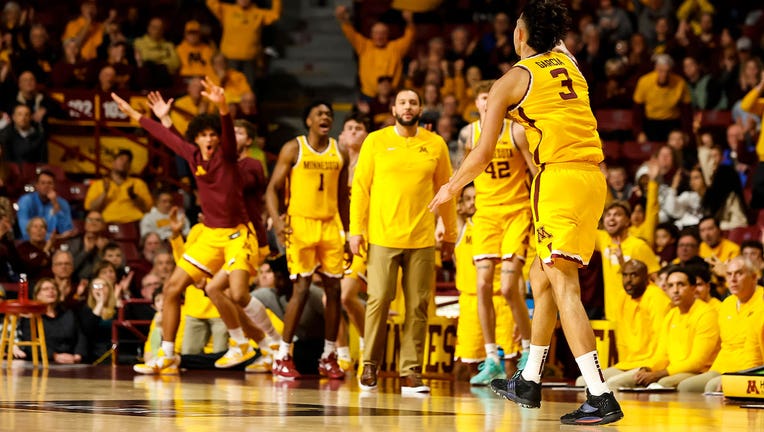 article
MINNEAPOLIS (FOX 9) - University of Minnesota men's basketball coach Ben Johnson spoke Tuesday at Big Ten Media Days at Target Center with a renewed sense of energy and optimism for the season ahead.
That might sound strange after Johnson and the Gophers have had to endure two seasons filled with adversity and injuries. In two seasons at his alma mater, Johnson is 22-39 and just 6-33 in Big Ten play. But for the first time in his tenure, he's able to practice with a fully-healthy roster filled with returners from last season, and new talent.
His hope is that this year is the start to what Gophers' fans were looking for when he took over the program in March of 2021.
"Every program when you're trying to build and grow, has different stages and steps that it has to take to sustain success," Johnson said. "For us, it really started in the offseason. That carried over to an unbelievable offseason where more players were in the gym on their own. That translates to competitive practices. We have to understand who we are and where we're at, and every detail matters. Now that we have some depth, we have experience, we have returners, we've got to figure out what it means to win and how you win. That's just an everyday process."
That starts with having last year's top scorer and rebounder back this season. Forward and Prior Lake native Dawson Garcia is back and was named Preseason All-Big Ten. He averaged 15.3 points and 6.7 rebounds per game in 26 starts last year.
He leads a group of returners that includes Pharrel Payne, Braeden Carrington, Joshua Ola-Joseph and a now healthy Parker Fox and Isaiah Ihnen, who each missed the last two seasons with knee injuries. Johnson said Garcia is up for the task of being a top player in the Big Ten.
"I think Dawson had an unbelievable offseason in terms of just his body. Now it's just about being consistent. When you know exactly what's expected and how I'm going to be, you have returning players that understand your game and you understand their game, there's comfort in that," Johnson said." Now the challenge is to continue how he finished last year on a really high note. He's up for the challenge, he's got a hunger like I haven't seen in a player in a really long time."
Johnson added Pepperdine guard Mike Mitchell Jr. and Howard guard Elijah Hawkins out of the transfer portal, as well as Washington State big man Jack Wilson.
The Gophers finished their recruiting class with highly-touted guard Cam Christie. For the first time in his tenure as head coach, Johnson can run a full practice with 12-13 players.
Outside expectations have the Gophers finishing near the bottom of the Big Ten after finishing last each of the past two seasons. But as Johnson preaches, "It's a process."
"I really like the mix of our program right now, we've got some really good depth, which we haven't been able to have, which has made our practices really competitive. In turn, it will make our team competitive," Johnson said. "Just really excited to get going with this crew."
After an exhibition against Macalester, the Gophers open the 2023-24 season Nov. 6 against Bethune-Cookman at Williams Arena.