Gophers Ben Johnson excited to have healthy roster in 3rd season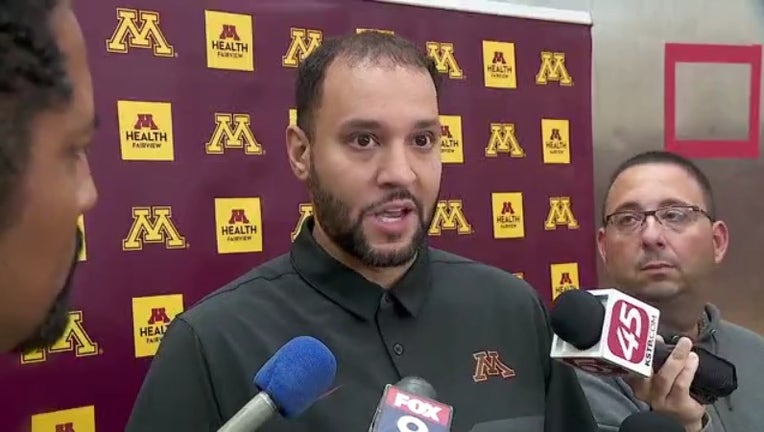 article
MINNEAPOLIS (FOX 9) - University of Minnesota men's basketball coach Ben Johnson was asked Tuesday, during the team's first full week of practice for the 2023-24 season, what it was like to have Parker Fox and Isaiah Ihnen back on the court healthy.
Fox and Ihnen have both missed the last two seasons with knee injuries, and two weeks ago, were cleared for full contact and basketball activities. Johnson looked for wood to knock on, and had to settle for the head of Gophers' basketball play-by-play man Mike Grimm.
"It's great, knock on wood. Two weeks ago was the first time in two years we've had a full team and the first time to be able to see those guys go 5-on-5. You look at it and watch, we were missing this for the first two years. You've got physicality, two guys that know how to play. You can't put a price tag on that," Johnson said. "They're hungrier than ever. When you sit for two years and you watch, you better be hungry and they are. It's just elevated practice. Ever since they've been back it's been full steam ahead."
Not only are Fox and Ihnen healthy, the entire roster is. Everyone participated in practice on Tuesday in the 20 minutes open to media.
Johnson is entering his third season and for the first time, he has players back that know the system to mesh with new talent via high school recruiting and the transfer portal. The Gophers have a returning core that's led by leading scorer and rebounder Dawson Garcia, center Pharrel Payne, forward Joshua Ola-Joseph and guard Braeden Carrington, all local players.
Garcia, Payne, Ola-Joseph and Fox didn't hesitate when given the chance to elevate and dunk at Tuesday's workout. Johnson was also assertive in the transfer portal, bringing in 6-11, 285-pound big man Jack Wilson from Washington State, Pepperdine guard Mike Mitchell Jr. and Howard guard Elijah Hawkins.
It's very possible Mitchell and Hawkins will be starting when the season opens Nov. 6 against Bethune Cookman.
Johnson said the lumps the returning players took last year will pay dividends long-term.
"They have no idea how much it's going to benefit them as sophomores what they went through. It sucked for everybody, but the experience they got, it's not going to get any harder ever again than it was this year," Johnson said. "Now you've proven you belong, the maturity and the confidence is there because of what they went through."
What they went through was injuries and losing, and a lot of it. The Gophers went 9-22 last year, including 2-17 in Big Ten play. In Johnson's first season, the Gophers were 13-17 overall and 4-16 in the Big Ten.
That's 22-39 overall, and 6-33 in league play. Health is always the wild card, but Johnson said this year's Gophers will be better as long as they follow the process.
"The first two years, I was good because I knew where we were at with what we had. There's no excuses, we want to win every single game we play but at the same time, I knew what it was. Now this year you feel like you're going with a loaded deck," Johnson said.