Fresh off bye week, Gophers look to beat Nebraska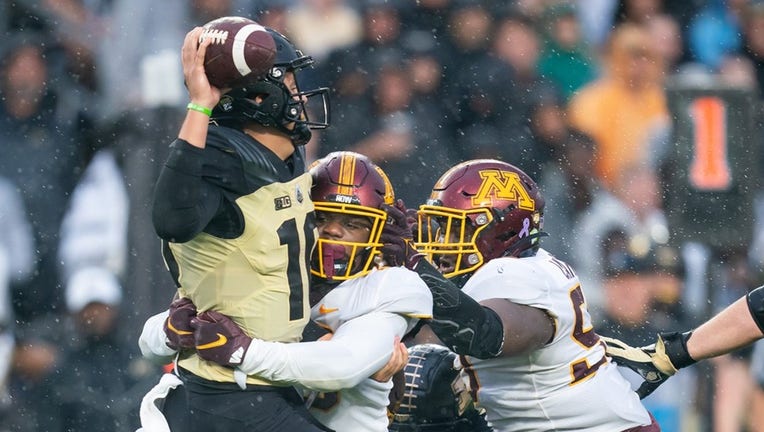 article
MINNEAPOLIS - Fresh off their bye week, the University of Minnesota football team is back in action Saturday, hosting Nebraska at 11 a.m. at Huntington Bank Stadium.
It's a pivotal game for both programs. The Gophers are 3-2 and looking to get on a win streak before a Nov. 13 date at Iowa. The Cornhuskers are 3-4 and were driving to beat undefeated Michigan before an Adrian Martinez fumble allowed the Wolverines to drive for the game-winning field goal.
The Gophers have some things to figure out on offense, with Trey Potts now out for the rest of the season with an undisclosed injury. That's after losing Mo Ibrahim for the season after Minnesota's loss to Ohio State. Minnesota will turn to a combination of Mar'Keiese Irving, Bryce Williams and Ky Thomas in the run game, as well as wildcat quarterback Cole Kramer.
Tanner Morgan will also have two of his top three receivers in Chris Autman-Bell and Dylan Wright available. Wright missed the Gophers' win at Purdue for personal reasons. Daniel Jackson, who leads the Gophers with 14 catches for 155 yards and one touchdown on the season, was watching warm-ups in street clothes and will not play.
Morgan is 21-10 in his third season as Minnesota's starting quarterback.
The Gophers' defense has a tall task in containing Martinez, who is also Nebraska's top running option. Minnesota has allowed just three offensive touchdowns since a 30-0 win at Colorado.
P.J. Fleck is 3-1 for his career against Scott Frost, and the Gophers are 2-2 coming off their bye week under Fleck.