Coffey, Pitts earn Big Ten honors for Gophers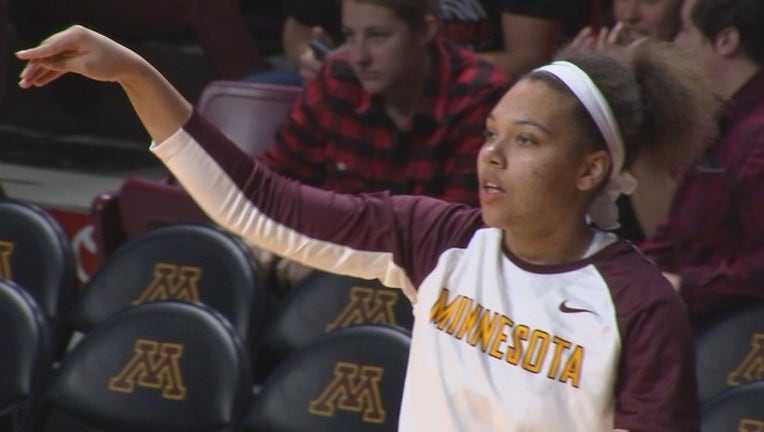 MINNEAPOLIS (FOX 9) - Amir Coffey and Destiny Pitts each led the Gophers basketball teams in their most recent wins, and both were honored by the Big Ten Conference on Monday.
Coffey was named the Big Ten Player of the Week after scoring 31 points and grabbing 12 rebounds in a 62-50 win at Northwestern. It was his first career double-double. Coffey finished 12-of-19 from the field, including 3-of-6 from three-point range.
Coffey has scored in double figures in 23 of the 29 games this season.
On the women's side, Destiny Pitts was named to the Big Ten honor roll on Monday. She averaged 25 points and 3.5 rebounds as the Gophers lost at Rutgers last Thursday before beating Michigan State in the regular season finale on Sunday.
Pitts has scored at least 20 points in six straight games, and she scored 26 in Sunday's win. Over Minnesota's last six games, she's averaging 24 points per game while shooting nearly 49 percent from the field, and better than 43 percent from three-point range.
The Gophers also had three players named to All-Big Ten teams on Monday. Kenisha Bell was named Al-Big Ten First Team and to the All-Defensive Team. Pitts was also named First Team All-Big Ten. Taiye Bello was named All-Big Ten Honorable Mention.
Bell is leading the Gophers with 18.9 points per game, 5.8 rebounds, 4.3 assists and two steals. She leads the Big Ten in both steals (59) and made free throws (159). Bell is also a semifinalist for the National Defensive Player of the Year Award.
The Gopher women head to the Big Ten Tournament as the No. 7 seed on Thursday.