1998 Vikings are the best team to NOT make the Super Bowl, mean-spirited study finds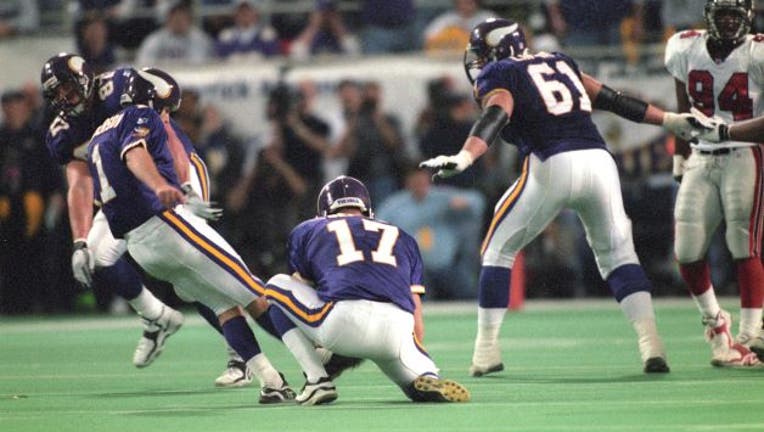 article
MINNEAPOLIS (FOX 9) - For a fan base that protects and defends its heartbreak with the ferocity of a mother bear, we already knew this. If you lived through it, you didn't need a study to confirm it, you still remember exactly where you were when it happened. 
But, for some statistical validation, the good people at gambling.com decided to make it official: the 1998 Minnesota Vikings are the best team in the history of the NFL to not make the Super Bowl. It still hurts.
With all due respect to 41-0, Brett Favre throwing across his body, to the Philadelphia Flop following the Minneapolis Miracle they are 100%, beyond a shadow of a doubt right. 
The study measured seven categories: Regular season record, offensive and defensive ranking, Pro Bowlers, post-season Super Bowl odds and spread in the playoff loss. 
Saying the team had a 15-1 record? That is like calling Prince a guitar player. Take away a pointless loss to a hapless Tampa Bay team and that record doesn't show the majesty displayed that season. Do you recall sitting in awe watching Randall Cunningham and Randy Moss embarrass the Packers on Monday Night Football? Do you remember the trashing of the Cowboys in Dallas? 15-1 doesn't do it justice. 
No. 1 overall offensive ranking. The team basically invented what a high-powered offense was and could be. Randy Moss (ed note: He is the greatest receiver of all time, an argument to the contrary is a waste of everyone's time) went supernova as a rookie with 17 touchdowns and over 1,300 yards. There wasn't a secondary in the league that could handle him. Randall Cunningham, a seemingly washed-up QB threw for 3,700 yards, future-Hall-of-Famer Cris Carter caught 12 touchdowns, and Robert Smith at running back with over 1,100 yards. They went out and scored 556 points on the season, 31 points a game. Not to mention, Brian Billick, a future Super Bowl-winning head coach, was at offensive coordinator. 
Lost in all of that was the defense, which ranked No. 6 in the league. It featured Ed McDaniel, Hall of Famer John Randle (still with face paint) and a stout secondary. While they may not have been the Purple People Eaters, they were still excellent. 
Pro Bowlers: Nine. Should have been more.
Post-season Super Bowl Odds: +120….For reference, the Kansas City Chiefs this year were +280 at the start of the playoffs. 
Spread in playoff loss -11: A Chris Chandler-led Atlanta Falcons came into the Metrodome for the NFC title game. People were already buying tickets to Miami and booking hotel rooms. What followed lives on in Vikings lore. A late first-half fumble. Taking a knee. Gary Anderson's first missed field goal of the season. I need not go on. 
We just passed the 24-year anniversary of that game. It still hurts today as much as it did then. 
Skol Vikes!