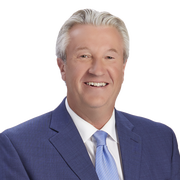 Jim Rich is a native Minnesotan from Day One growing up on the shores of Lake Superior and still heads Up North anytime he can. 
Being a lifelong resident, Jim has been living the ups and downs of Minnesota sports teams on a daily basis, from the two World Series Championships to the four Super Bowl losses, he's experienced it all.  
Jim enjoys being out in the crowds and doing his sportscasts live on location, whether it's Target Field or the Xcel Energy Center. Jim's favorite memories with FOX 9 Sports are the times he was given the opportunity to hang with people away from the game -- like taking Jim Thome bass fishing or spending time with Vikings head coach Mike Zimmer at his ranch in Kentucky.   
Jim anchors Sunday through Thursday on the evening newscasts  at FOX 9 and hosts Vikings postgame shows and FOX 9 Sports Now Sunday nights at 10:35 p.m.