Vikings fan neighbor makes sure Kirk Cousins' driveway stayed clear during snowstorm
MINNEAPOLIS (FOX 9) - As the Vikings look to make a postseason run, some fans are doing anything they can to help the team. For Kirk Cousins' neighbor Jon Weber, that means picking up a snow shovel during a massive snowstorm this week in Minnesota.
"Being Minnesota Nice has always been kind of put in my blood," said Weber.
Kirk Cousins gets a lot of protection on Sunday. But he's also got a guy that protects him away from the field.
"If I had known that my neighbor across the cul de sac was Jon Weber," Cousins said. "I would have paid double for my house."
Jon Weber and his boys, Christian and Colin, head out when the snow flies to shovel out his neighbors.  
"It doesn't matter who it is," said Weber. "Doesn't matter where I am. It's kind of the same thing. And that's one of the things we try to instill in our boys is to be neighborly and just be nice and just go out and give 100% effort to whatever you're doing. Is it cool that he's the QB1? Absolutely. I kind of smile every time, but it's the same. It's just fun."
Cousins and his neighbor quickly bonded when Kirk signed with the Vikings years ago and moved into his new home.
"To have somebody here who is knowledgeable and I can just focus on football is... I really can't put a price on it," said Cousins.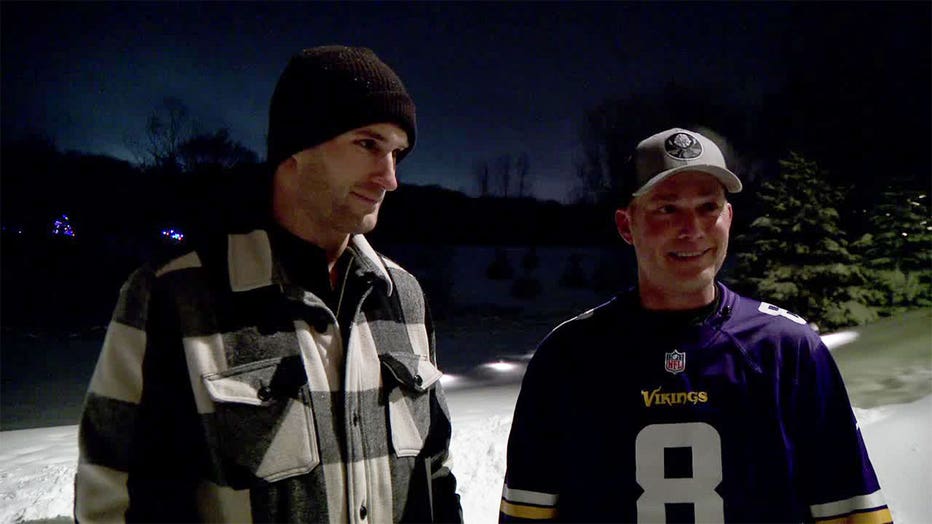 Kirk Cousins is glad to have a neighbor like Jon Weber in Minnesota. (FOX 9)
Even though snow seems to be Jon's expertise, Cousins has leaned on Weber in all situations.
"Julie will text me and say, 'Hey, you know, we're having an issue with the heating or the cooling,' and I'll just say three words 'text Jon Weber.' And usually, by the time I get home from work, it's been resolved," Cousins explains. "You know, we get basically one day off a week. Tuesday during the season is our off day. And it's hard for me on a Tuesday to devote the whole day to, you know, the honey-do list. And so for me to be able to say, all right, I can go play with my boys, I can go catch my breath, I can go get caught up on some other things because Jon's handling so much else around the house is a tremendous blessing."
It has also made Kirk and his family feel welcome here in Minnesota. And that Minnesota nice is more than just a hokey slogan.
"You know, he's kind of made me aware of all the stuff to do around the area," Cousins said. "You know, he was talking tonight about snowmobiling out to New Trier and just different things we can do. And, you know, before it's all said and done, he may be able to convince me to just stay here in Minnesota long-term because he's he's always, you know, selling it to me and all the great parts of it."
"There's so many untouched things down here that you haven't seen yet," Weber added. "We'll go down to Miesville, New Trier, we'll hit all the little towns down here."
"He'll keep me busy all offseason," responds Cousins.
Weber comes from a family that's always been there to help others. All the way back to his grandfather, who dug septic sewers. And now Jon wants to keep that tradition moving ahead.
"You just go out and help and that's what makes it fun, is you build great relationships by just giving a little bit of your time," concluded Weber.