The '10-second toothbrush' makes its debut in the US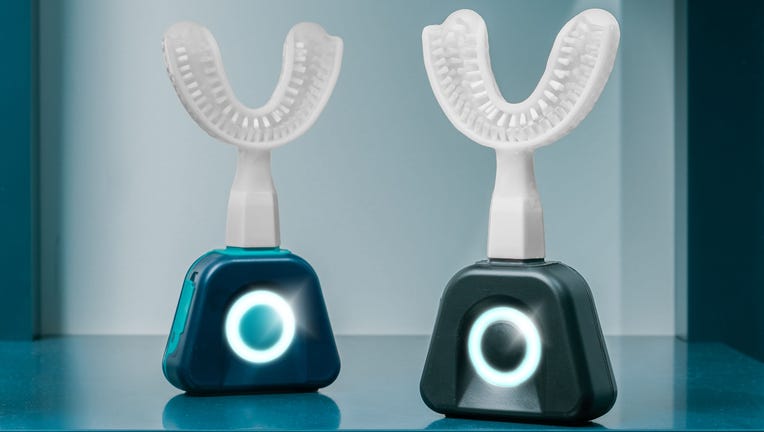 article
A mouthguard-style toothbrush developed by a French company that claims to clean your teeth in just 10 seconds has made its debut in the United States.
The Y-Brush, developed by a company of the same name, recently launched on Amazon for U.S. consumers after being available in Europe. The brush first debuted at the Consumer Electronics Show (CES) in 2017, according to CNET, and has since gone into production and is for sale in dozens of countries.
The American Dental Association recommends that people brush their teeth for two minutes twice a day with a soft-bristled toothbrush, noting how both manual and electric toothbrushes "can be used effectively."
For its part, the Y-Brush comes with 35,000 soft nylon filaments that brush all the teeth simultaneously in 10 seconds with a 45-degree angle against the teeth. The company says the current prototype was "developed with a team of dentists" over four years and comes with adult and kid-sized options.
"A standard 2-minute brushing time means that you spend between 2 and 4 seconds (depending on the number of teeth) on each of your teeth. Thanks to its U-shape, Y-Brush brushes all the teeth of one jaw at the same time," the company states on its website. "This is how you save time. It is even more effective because Y-Brush does not neglect any area, unlike manual brushing where we tend not to brush certain areas well."
While most of the Y-Brush products appeared to be sold out on Amazon as of this writing, consumers can also purchase the Y-Brush on its website to be shipped from France. The cheapest option — the NylonStart Toothbrush — is $85.99 USD plus shipping and comes with one NylonStart electric toothbrush, one brush head (size S or M), and a charging cable.
Size S is recommended for children ages 4 to 12 and "adults with small jaws (women without wisdom teeth)," according to the website. Size M is recommended for most adults and children older than 12.
The NylonBlack Toothbrush runs $138.99 USD and comes with four sonic vibration modes: "soft (15 sec), normal (10 sec), intensive (5 sec), and unlimited."
There's also a version for children, called the NylonStart Kid Toothbrush, for $106.99 USD.
The company sells replacement brush heads for $37.99 USD and recommends these be changed "at most every six months."
The Y-Brush products are pictured in provided images. (Credit: Y-Brush)
Other tech unveiled at CES 2023
The Y-Brush returned to CES 2023 in Las Vegas and was among a number of interesting and high-tech products at the annual show.
Brooklyn-based Ottonomy.io showed off its fully autonomous delivery robot, the Yeti, which eliminates the need for a human to be present to collect deliveries. Those traveling through airports in Cincinnati, Pittsburgh, or Rome might already cross paths with one of these robots as they bring food directly to travelers at their gates.
The company also provides outdoor curbside delivery services up to 4 miles. Ottonomy co-founder and CEO Ritukar Vijay said the price tag on its services varies depending on the number of robots a company wants to deploy and how many restaurants or retailers are included in the delivery footprint.
Meanwhile, singer and dancer Paula Abdul came to CES to launch Idol Eyes, a line of audio sunglasses. Starting at $199, the sunglasses feature a five-hour battery life and play audio from the arms of the frames via Bluetooth connectivity. You can listen to music or answer calls.
Another company based in Munich, Germany, called Holoride, wants to make car rides more fun and less dizzy. The company's VR headset allows passengers to play video games, watch Netflix or scroll through Instagram while they ride.
If the car is moving, the passenger moves in the virtual world, helping to prevent car sickness, according to co-founder Daniel Profendiner. Rather than seeing the road, you might be flying and fighting robots or swimming under the sea.
"The car industry is super-focused on the driver but with more autonomous driving on the horizon, the passenger gets more into the focus as well," he said.
This story was reported from Cincinnati. The Associated Press contributed.