What to do in Minnesota: 7 things to do this weekend (Feb. 10- Feb. 12)
MINNEAPOLIS (FOX 9) - There are plenty of winter events this weekend to keep you entertained as temperatures continue to rise!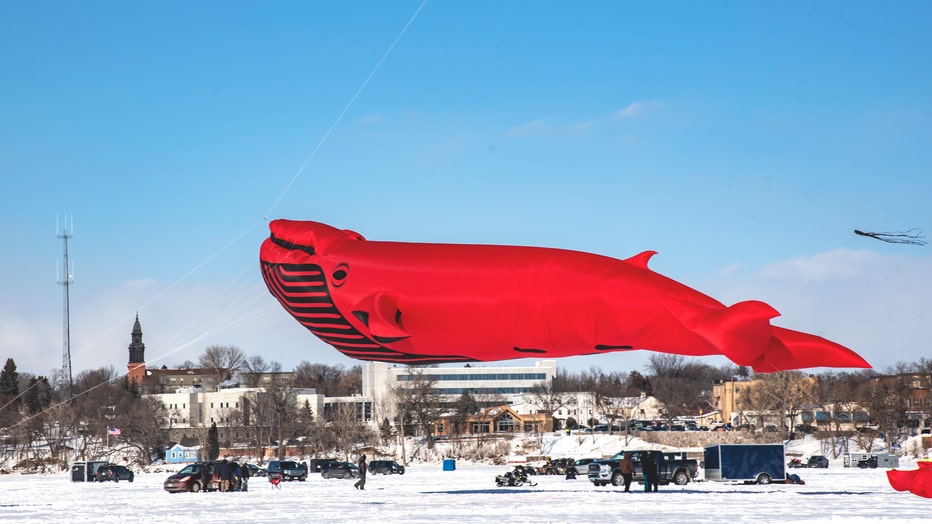 A red whale kite flies above the lake at the Kites on Ice Festival in Buffalo. (Supplied)
Have an event you want to see featured? Email me at adelaide.vanpelt@fox.com.
Buffalo Lake, Buffalo
February 11
Free admission
See kites of all shapes and sizes on frozen Buffalo Lake this weekend.  Free kite building workshop for kids, beanbag tournament, sled dog rides, games on the ice, food trucks and more are available at this family-friendly event!
Cupid's Revenge:
Nowhere Haunted House, Inver Grove Heights
February 10 and February 11
This is Valentine-themed walk-through haunted house features Cupid, vampires, and more! Recommended for children 12 and older.
Celebration of the Lakes:
Chisago Lakes Area, Lindstrom
February 9 through February 12
Prices vary by event.
Pond hockey, ice fishing, dodge ball, bags, prize raffles, and more. Full list of events here.
Wayzata Chilly Open:
Lake Minnetonka, Wayzata
February 11
Since 1984, thousands of Minnesotans head to Lake Minnetonka for this unique frozen golf event. Three 9-hole courses are carved out on the ice. Each year, over 1,800 golfers attend to putt with tennis balls around Wayzata Bay. Other events include snow yoga, a chili cook-off, snow kite races, and more!
Second Annual Cocoa Cuddles Craft and Gift Show:
Cottage Grove Armory, Cottage Grove, MN
February 11
Free admission
Eat, sip, and shop for handmade items at this weekend event!
Polar Fest:
North River Hills Park, Burnsville
February 11
Free admission
Celebrate winter with family-friendly outdoor activities, free carriage rides, ice bowling, music, bonfires, sledding and more! Bring your friends or family to snap a photo in the ice sculpture photo frame.
Live Screening of Charlie Chaplin:
Skyway Theatre, Minneapolis
February 10 and February 11
Skyway Theatre presents a three-performance weekend of silent film on February 10th and 11th featuring a Charlie Chaplin double feature with live orchestral and jazz compositions! The event will begin with local vintage jazz guitar sensation Miss Myra and Fitzgerald Palmer from Miss Myra and the Moonshiners presenting Charlie Chaplin's slapstick comedic short Behind the Screen.
Each performance will be followed by a brief interview about the unique art form of silent film and the inspiration behind their individual scores.