Vegan butterbeer added to menus at Universal's Wizarding World of Harry Potter
LOS ANGELES - Theme park goers and fans of Harry Potter who have dietary restrictions or live an animal-byproduct-free lifestyle can finally drink a tankard of butterbeer with the new vegan option that's been integrated into The Wizarding World of Harry Potter at Universal Studios.
Universal Studios announced Thursday it had added vegan butterbeer to menus at the fantasy attraction.
The "fan-favorite" sweet drink is available at Universal Orlando Resort in Florida and Universal Studios Hollywood in California, according to a press release emailed to Fox News Digital.
Unlike Universal's standard butterbeer drink, its vegan butterbeer is made without dairy and has a "vegan-friendly" froth. 
HARRY POTTER'S BUTTERBEER RECIPE UNCOVERED?
The theme park claims its new vegan butterbeer has "the same delicious taste" as its existing butterbeer beverage, which reportedly tastes like butterscotch and shortbread.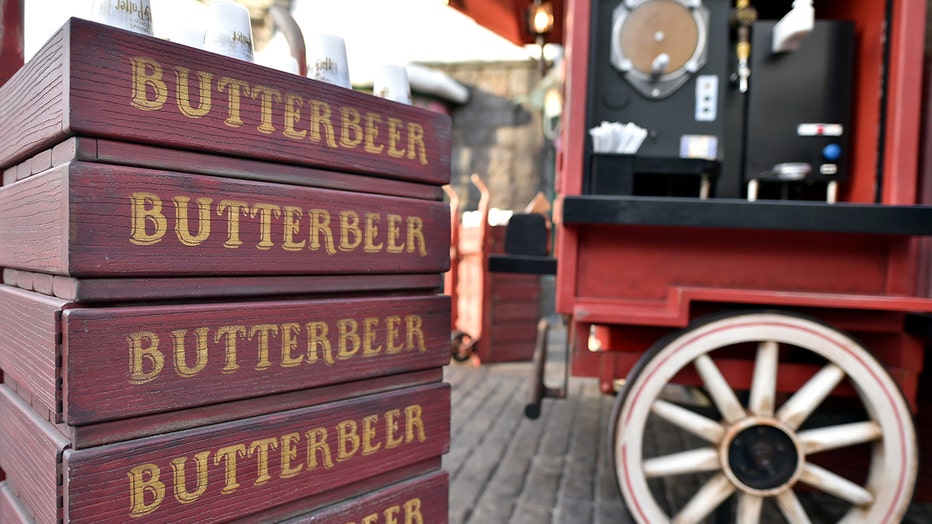 Wizarding World of Harry Potter Attraction Opening' -- Pictured: Butterbeer cases pictured at the opening of the 'Wizarding World of Harry Potter' at Universal Studios Hollywood on April 5, 2016. NUP_173164 (Photo by: Mike Windle/Universal Studios/NB
Park guests will have the option to order vegan butterbeer as a cold or frozen drink.
In Orlando, vegan butterbeer is now served at the "Three Broomsticks" restaurant in Hogsmeade and the "Leaky Cauldron" restaurant in Diagon Alley. In Los Angeles, vegan butterbeer is now served at the "Hog's Head" pub and "Three Broomsticks" restaurant.
Butterbeer was a fictional drink that had been referenced on multiple occasions in the "Harry Potter" books, movies and video games. 
Food bloggers and mixologists tried to replicate the drink's description with homemade recipes. In 2010, butterbeer became a reality for millions of theme park visitors when Universal Orlando opened its first Wizarding World of Harry Potter attraction.
Harry Potter fans who haven't been able to visit the theme park have had to purchase butterscotch beers that have been bottled by various manufacturers.
RELATED: Harry Potter books banned from Tenn. school
Universal Studios has other vegan menu options at the Wizarding World of Harry Potter, including Irish Stew, Shepherd's Pasty Pie and Mushroom Pie Platter.
At the time of publication, select vegan menu items are exclusive to either Universal theme park. 
Visitors who have strict dietary restrictions can find a full menu on the Universal Studios website.
HARRY POTTER 'BOOK ARTIST' WHO REMOVES J.K. ROWLING'S NAME IS WITHIN HIS RIGHTS: LEGAL EXPERTS
News of Universal's inclusion of vegan butterbeer comes at a time when the "Hogwarts Legacy" video game has broken multiple sales records despite calls for boycotts from LGBTQ activists and allies on social media due to comments made by "Harry Potter" author J.K. Rowling in 2019.
Rowling responded to an article that used the term "people who menstruate" in a public tweet that seemingly suggested she thought the article should have used the word women.
"I'm sure there used to be a word for those people," she wrote at the time. "Someone help me out. Wumben? Wimpund? Woomud?"
Critics have labeled the tweet and Rowling's further elaborated opinions as "transphobic" and have demanded she apologize.
FOLLOW US ON FACEBOOK FOR MORE FOX LIFESTYLE NEWS
Former and existing "Harry Potter" fans have encouraged boycotts of Universal theme parks and other revenue streams that are connected to Rowling, according to calls for action on various social media platforms.
Valuators have estimated that the Harry Potter franchise could be worth $25 billion, according to money.com, an online financial news magazine.
Non-dairy beverages are reportedly another multibillion-dollar industry. 
CLICK HERE TO GET THE FOX NEWS APP
A market research report published by Fortune Business Insights, a market studies and consulting service in Pune, India, predicts the global dairy alternatives market will grow from $25.19 billion in 2022 to $61.43 billion by 2029.