White House says objects shot from sky were not sent by aliens
The White House on Monday defended the shootdowns of three unidentified objects in as many days even as it acknowledged that officials had no indication the objects were intended for surveillance in the same manner as the high-altitude Chinese balloon that traversed American airspace earlier this month.
The three objects, including one shot down Sunday over Lake Huron, were traveling at such a low altitude as to pose a risk to civilian air traffic, said White House national security spokesman John Kirby. While the Biden administration does not yet have evidence that they were equipped for spying purposes — or even belonged to China — officials have not ruled that out, he said.
"These were decisions based purely and simply on what was in the best interests of the American people," Kirby said.
RELATED: How a suspected Chinese spy balloon is different than America's classic weather balloon
The weeks-long succession of objects, starting with a giant white orb first detected over U.S. skies in late January, has puzzled American officials and captivated curiosity around the world. Though the three most recent objects differed in size, maneuverability and other characteristics from the surveillance balloon shot down Feb. 4 off the Carolina coast, officials moved to eliminate each one from the sky — actions that Pentagon officials believe has no peacetime precedent.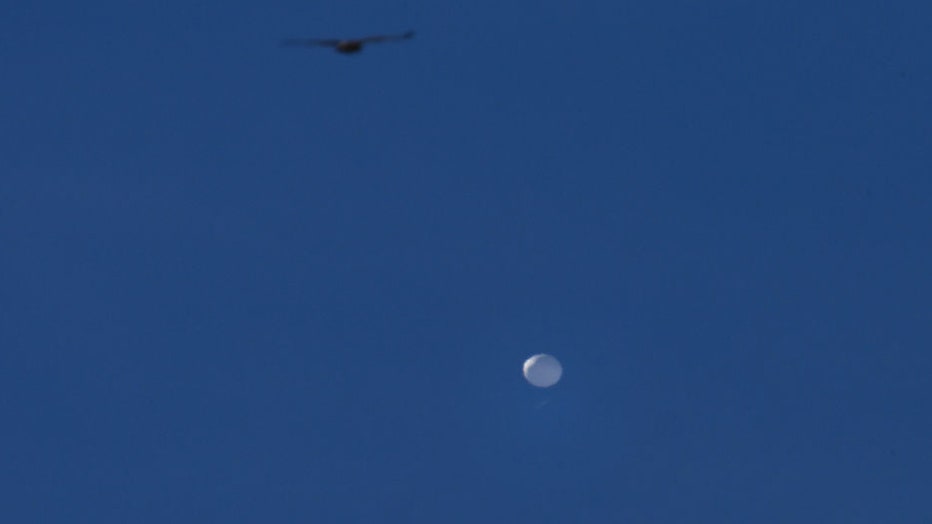 Chinese spy balloon flies above in Charlotte NC, United States on February 04, 2023. The Pentagon announced earlier that it is tracking a suspected Chinese high-altitude surveillance balloon above the continental US. (Peter Zay/Anadolu Agency via Get
"Because we have not been able to definitively assess what these most recent objects are, we acted out of an abundance of caution," Kirby said.
One possibility that the U.S. has been able to rule out, officials said Monday, is any connection to extraterrestrial activity.
Other Western nations are also trying to assess the spate of incidents. British Prime Minister Rishi Sunak said Monday that the government would do "whatever it takes" to protect the country, as the U.K. announced a security review. And Canadian Prime Minister Justin Trudeau said "there is some sort of pattern" to the balloon and three other objects, though the U.S. has not echoed that claim.
Kirby spoke from the White House podium hours after China alleged that more than 10 U.S. high-altitude balloons have flown in its airspace during the past year without its permission. American officials have vigorously denied the claim, with Kirby saying Monday, "We are not flying surveillance balloons over China."
The Chinese allegation came after the U.S. shot down a suspected Chinese spy balloon that had crossed from above Alaska to South Carolina over a period of multiple days, sparking a new crisis in bilateral relations that have sunk to their lowest level in decades and prompted Secretary of State Antony Blinken to cancel a planned visit to China.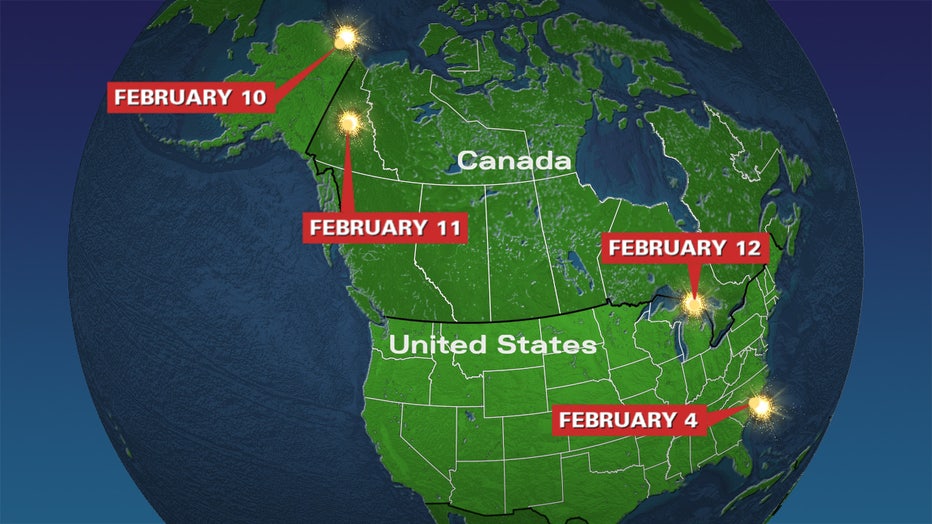 Locations where U.S. warplanes have shot down objects over North America in Feb. 2023.
The latest of the three objects was shot down Sunday over Lake Huron after being detected a day earlier over Montana.
On Friday, the North American Aerospace Defense Command, the combined U.S.-Canada organization known as NORAD that provides shared defense of airspace over the two nations, detected and shot down an object near sparsely populated Deadhorse, Alaska.
PREVIOUS: US working to identify 3 objects shot down from sky as China concerns escalate
Later that evening, NORAD detected a second object, flying at a high altitude over Alaska, U.S. officials said. It crossed into Canadian airspace on Saturday and was over the Yukon, a remote territory, when it was ordered shot down by Trudeau.
In both of those incidents, the objects were flying at roughly 40,000 feet. The object on Sunday was flying at about 20,000 feet.
None of the three most recent objects has been recovered, Defense Secretary Lloyd Austin told reporters in Brussels, where he was scheduled to attend a NATO defense ministers meeting this week.
Austin said weather has impeded recovery efforts in Alaska, while in Canada the object was shut down in a very remote area that was also impeding efforts. In Alaska, where the object landed on sea ice, windchill and safety concerns "are dictating recovery timelines," he said.
____
Associated Press writers Zeke Miller and Colleen Long in Washington and Tara Copp in Brussels contributed to this report.