University of Minnesota study suggests tear gas exposure has impact on reproductive health
MINNEAPOLIS (FOX 9) - In the wake of nationwide protests following the murder of George Floyd in May 2020, anecdotal reports of irregular menstrual cycles emerged among protestors who were exposed to tear gas used by law enforcement.
Those reports and the fact that the reproductive health effects of tear gas exposure are largely unknown is the motivation behind this new study from the University of Minnesota School of Public Health (SPH). The study, published in Frontiers in Epidemiology, adds to previous research about the short-term and long-term adverse health effects of exposure to a range of chemicals in tear gas, which is often used by law enforcement. 
Many of these chemicals have been banned in active warfare by international treaties because they have been linked to a range of negative health effects like blindness, glaucoma, and respiratory failure.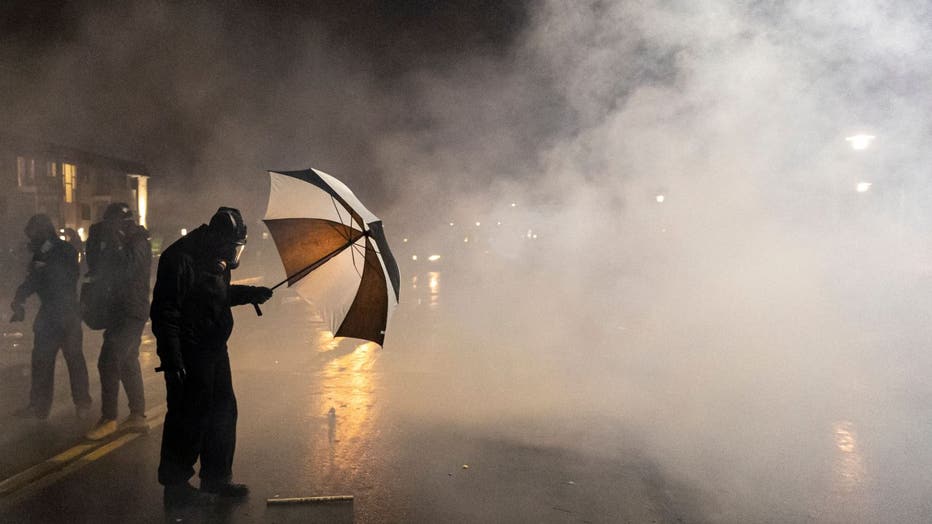 Protesters try to shield themselves from tear gas fired by police outside the Brooklyn Center police station during a protest after a police officer shot and killed Daunte Wright in Brooklyn Center on April 12, 2021. (Photo by Kerem Yucel / AFP) (Pho (Getty Images)
Using a national survey, researchers collected reproductive and sexual health experiences among protest attendees with uteri who were exposed to chemical agents. 
The study found: 
83% of respondents reported at least one adverse reproductive health outcome, including uterine cramping, early menstrual bleeding, breast tenderness and delayed menstrual bleeding.
Those with five days or more of exposure to tear gas experienced 2.6 more negative reproductive outcomes.
"This study adds to previous research documenting the many ways that structural racism through police violence can impact reproductive and perinatal health," said Asha Hassan, a researcher with SPH's Center for Antiracism Research for Health Equity (CARHE) and lead author of the study. 
"Law enforcement agencies see chemical agents as 'less lethal' weapons, but the fact is that we simply do not know very much about the short-term or long-term public health effects tear gas and other chemical agents have on reproductive health. This study is only the beginning of raising questions about the health effects of tear gas exposure," Hassan continued. 
The researchers of the study say they strongly recommend policymakers push for limitations in the use of chemical agents by law enforcement.