Twins organist Sue Nelson prepares for postseason
MINNEAPOLIS (FOX 9) - As the playoffs approach, fans of this year's AL Central Division Champions are growing more excited by the day, including Sue Nelson.
Anyone stepping into Twins territory in the last 25 years has heard her keystrokes, been hyped up by her organ, and hopefully her optimistic smile. Whether fans in attendance realize it or not Nelson knows not only a thing or two about playing to a crowd, but also playoffs. She started with the North Stars in 1981 through 1991 playing through two Stanley Cup runs both bitten by losses. Her predecessor who was manning the Twins organ at the time, never let her forget it.
"I knew Ronnie Neuman during this time, and he would say, how many world championships have you played for? And I'd say, two. And he'd say, how many did you win? And he'd say [tongue stick out] because he won in '87 and '91 and I didn't win either one of them," says Nelson.
Now as fans of the newly crowned AL Central Division Champions get geared up, and some snowbirds adjust their seasonal plans.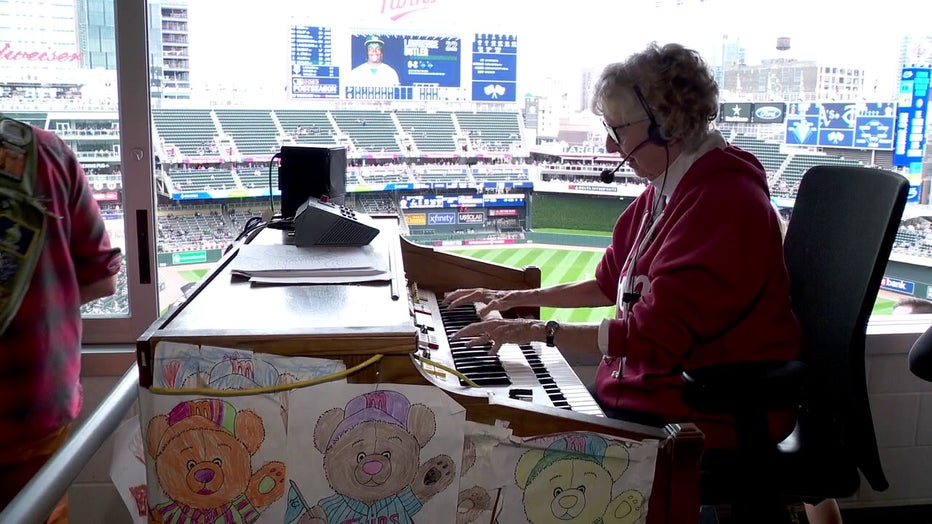 "We are here until they lose, we are not going back to Orlando. They better stay. We planned November so," says Twins fan Shelly Olness.
Nelson is extremely excited for the extended season, and a chance to sit on her thrown behind a 40-year-old organ at least a couple more times this week. She points out Tuesday will be her first time striking chords for a Twins home playoff game.
"Yes! And I have to just keep thinking that it is another game next Tuesday. It should be just we know it'll it should be just fantastic. I just hope the place is full," says Nelson. "I mean, you know, it's fine no matter what in the games in early April, it's fine because it's still a baseball game. But oh my, it's going to be way, way, way good."
Although, as we know baseball fans can be superstitious. With celebrity status also comes a little pressure.
"You are going to break our playoff losing streak Sue. I can feel it," says a fan. Nelson response. "I sure hope so."
Regardless, Nelson knows bats swinging in October is a bonus, and she'll be leading cheers for her beloved Twins, for countless innings to come.
"I sure don't know why I would quit. I can't imagine why I would. it's so fun!"