Loaded gun found in airline employee's bag at MSP security checkpoint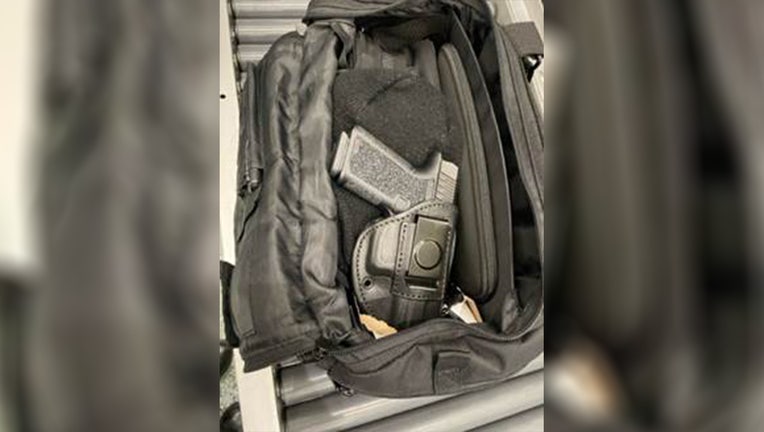 article
MINNEAPOLIS (FOX 9) - Transportation Security Administrator (TSA) said an officer at the Minneapolis-St. Paul International Airport (MSP) stopped an airline employee from attempting to bring a loaded handgun through security.   
TSA officials said in a press release Tuesday that an officer screening an employee's bag on Nov. 2 saw a handgun on the X-ray and alerted airport police. An airport official did not specifically identify the employee's role but did say they are a "flight-based" worker with SkyWest Airlines. 
Officials say the handgun was loaded at the time of the screening. This was the 49th firearm stopped at MSP so far this year, according to the press release. 
Recently, a grand jury indicted a former Delta Air Lines pilot for allegedly threatening to shoot a plane's captain "multiple times" last year after an argument broke out on whether to divert the flight for a passenger suffering a medical event, FOX News Business reported.
The Department of Transportation said the pilot was "authorized to carry a firearm through the Transportation Security Administration's Federal Flight Deck Officer program." 
The former pilot was indicted in October for interfering with the crew of a commercial airline flight. 
Firearms found at MSP
Officers at MSP found 58 firearms in 2022, the second year in a row for the increase. In previous years, officers found 56 firearms in 2021, 34 firearms in 2020, 40 firearms in 2019, and 37 firearms in 2018. 
"Our officers are focused on ensuring that firearms and other weapons do not make it through our security checkpoints," said Marty Robinson, TSA's Federal Security Director for Minnesota, in a statement Tuesday. "I'm grateful that our officers here and nationwide remain vigilant during this busy travel season. Firearms should never be brought to the security checkpoint in carry-on luggage, and airline employees should certainly be aware of that."
Federal officials say the penalty for bringing weapons to the airport, which can cost as high as $14,950. Passengers can also have their TSA PreCheck revoked for at least five years for the offense. 
Passengers are allowed to travel with firearms, but they must be packed in a checked bag, be separate from ammunition, locked in a hardback case, and be unloaded, and passengers must inform the airline of the firearm when checking in. Firearm possession laws vary by state, so travelers should check the areas they are flying to and from.