What we know about the Ohio train derailment
EAST PALESTINE, Ohio - A train carrying toxic chemicals derailed earlier this month in eastern Ohio, resulting in a large fire, evacuations of residents, and a controlled release and burn of hazardous fumes from the wreckage.
About 50 cars, including 10 carrying hazardous materials, derailed in the fiery crash on Feb. 3 in East Palestine, Ohio, located near the Pennsylvania state line. 
Vinyl chloride was later released into the air from five of those cars to get rid of the highly flammable, toxic chemicals in a controlled environment, creating a dark plume of smoke.
Residents from nearby neighborhoods in Ohio and Pennsylvania were evacuated because of health risks from the fumes, but have since been allowed to return.
But concerns over the quality of air and water have begun mounting for people in the area and Google search traffic indicated ongoing public interest in the story.
Here's what we know: 
Ohio train derailment: What happened
The 50 train cars derailed at about 9 p.m. EST as a train was carrying a variety of products from Madison, Illinois, to Conway, Pennsylvania, according to rail operator Norfolk Southern.
No one was injured in the derailment that investigators said was caused by a broken axle.
On Feb. 6, authorities decided to release and burn vinyl chloride inside five tanker cars, rather than risking a sudden, uncontrolled explosion. The controlled release sent hydrogen chloride and the toxic gas phosgene into the air. 
Vinyl chloride, used to make the polyvinyl chloride hard plastic resin used in a variety of plastic products, is associated with an increased risk of liver cancer and other cancers, according to the federal government's National Cancer Institute.
Phosgene is a highly toxic gas that can cause vomiting and breathing trouble and was used as a weapon in World War I.
Many of the 4,800 residents in East Palestine and those in the surrounding area were ordered to evacuate as officials monitored air and water quality following the controlled burn. 
"You need to leave, you just need to leave. This is a matter of life and death," DeWine said at a Feb. 6 news conference.
The evacuation order was lifted on Feb. 8 after the air was deemed safe. Despite this, some residents said they were still worried about returning home. 
In addition to local officials, the Ohio Environmental Protection Agency, U.S. EPA, Norfolk Southern Railroad, and the National Transportation Safety Board were all involved in the investigation. 
Also on Feb. 8, a cable news reporter was pushed to the ground, handcuffed, and arrested for trespassing while covering a news conference about the derailment, where DeWine was giving another update. Police said the reporter was talking loudly while on the air from the back of the gym where DeWine was speaking at the same time.
At the end of his news conference, DeWine said he didn't authorize the arrest and reporters have "every right" to report during briefings.
Body camera footage later released showed the leader of the Ohio National Guard placed his hands on the reporter during a heated confrontation just before the reporter was arrested.
The following week, on Feb. 14, the NTSB said it was continuing a safety investigation to determine the cause of the derailment and issue any necessary recommendations to prevent future derailments. Meanwhile, security video showing a glow from the underside of the train about 20 miles from the incident was circulating online, indicating that a fire may have broken out prior to the derailment.
Is the air and water around the site contaminated?
Residents were cleared to return home February 8. In an update shared on Feb. 13, the EPA said air monitoring had resulted in "no detections of vinyl chloride or hydrogen chloride" around East Palestine that could be attributed to the train derailment, although it noted residents may still smell lingering odors.
The agency said air monitoring would continue operating 24 hours a day, including samples at more than 470 homes and local schools and libraries. 
On Feb. 14, Gov. DeWine confirmed air in the town matched conditions prior to the crash, while Dr. Bruce Vanderhoff of the Ohio Department of Health noted that humans can still smell volatile organic compounds (VOCs) at levels much lower than is considered hazardous – pointing out that VOCs are present in everyday tasks like fueling a vehicle or smoking a cigarette.
Long-duration exposure to high levels of VOCs can cause a variety of "common symptoms," Vanderhoff said, including headache, eye irritation, and nose irritation, but he stressed that air samples are not indicating the crash site as a source.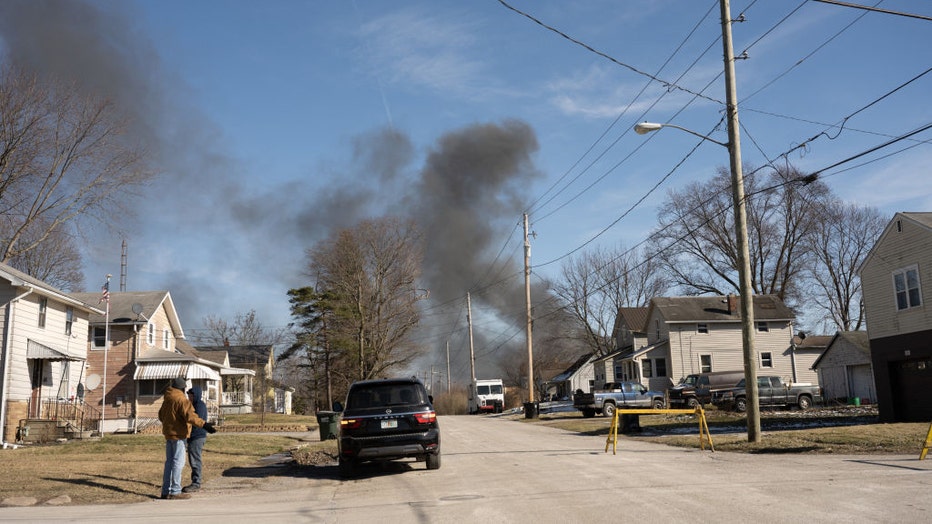 Smoke rises from a derailed cargo train in East Palestine, Ohio, on Feb. 4, 2023. (Photo by DUSTIN FRANZ/AFP via Getty Images)
The EPA is still monitoring soil and water contamination near the train derailment site and took water samples at several points of nearby water streams. In a letter sent to Norfolk Southern on Feb. 10, the agency said substances released during the incident "were observed and detected in samples from Sulphur Run, Leslie Run, Bull Creek, North Fork Little Beaver Creek, Little Beaver Creek, and the Ohio River" and were also observed entering storm drains. 
Officials have been monitoring about 7½ miles of those waterways. As of Feb. 14, Sulfur Run remained contaminated, according to Tiffani Kavalec of the state EPA, but that contamination is contained. The VOC butyl acrylate dissipates downstream at Beaver Creek, while another VOC, ethylhexyl acrylate, dissipates at Little Beaver Creek.
DeWine and Vanderhoff both urged residents to drink bottled water until all wells – both municipal and private – could be tested. Free testing is available for private wells, the governor said, along with any necessary cleanup.
Meanwhile, work continues to remove contaminated soil around the crash site, going as deep as 8 feet in some places. The governor said those efforts would continue until testing indicates all the contaminated dirt is gone.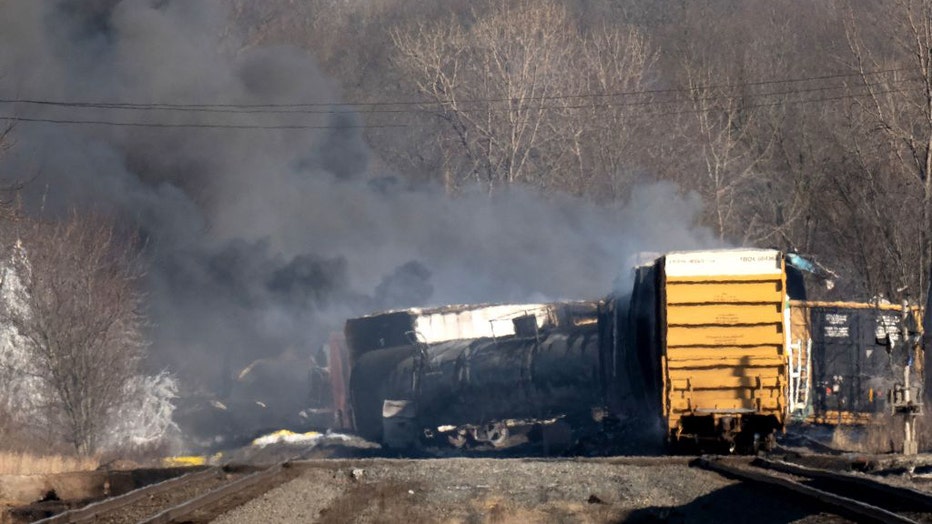 Smoke rises from a derailed cargo train in East Palestine, Ohio, on Feb. 4, 2023. (Photo by DUSTIN FRANZ/AFP via Getty Images)
Is the Ohio River contaminated?
Yes, officials say there is a "plume" of contamination that is drifting down the Ohio River at about 1 mph, approaching the town of Huntington as of Feb 14.
"The spill did flow to the Ohio River but the Ohio River is very large and it's a body that's able to dilute the pollutants very quickly," Kavalec stated. 
The plume includes "very, very low levels of VOCs," Kavalec explained, but also includes fire combustion materials from the initial blaze. Scientists have not yet tested the water for PFAS, or "forever chemicals."
Officials said the plume is being tracked in "real-time," which allows utilities to close their Ohio River drinking water intakes to allow the contaminants to pass, in addition to filtering and treatment. In addition, local officials are alerting neighboring states and systems beyond the local counties.
"We're pretty confident that these low levels are not getting passed along to the customers," Kavalec added.
West Virginia American Water said it was enhancing its water treatment process. The utility noted that there hasn't been any change in raw water at its Ohio River intake but that it's also going to install a secondary intake on the Guyandotte River in case there's a need to switch to an alternate water source.
"The health and safety of our customers is a priority, and there are currently no drinking water advisories in place for customers," the company said on Feb. 12 in a statement.
Effect on animals
The Ohio Department of Natural Resources estimates the crash and spill had resulted in the deaths of 3,500 fish – 12 species, none threatened or endangered – across those 7 miles of streams. Those deaths came in the early days after the crash and that number has not increased since then, officials said Feb. 14.
Meanwhile, other local news reports have indicated that some animals in the area have gotten sick or worse, though the connections haven't been confirmed by officials. 
Taylor Holzer, who operates a dairy farm just outside the evacuation zone in East Palestine and is a registered foxkeeper, told WKBN-TV in Youngstown that several foxes have puffy and swollen faces, and one even got sick and died.
"Out of nowhere, he just started coughing really hard, just shut down, and he had liquid diarrhea and just went very fast," Holzer said.
Another resident in North Lima, located about 10 miles away from East Palestine, told WKBN that she found her five hens and rooster all dead on Feb. 7 with no signs of a predator entering their enclosure and questioned whether the incident was to blame. 
The director of Ohio's Department of Agriculture downplayed those connections but urged anyone with concerns to talk to a veterinarian.
Lawsuits filed against Norfolk Southern
Several class action lawsuits have been filed by residents and business owners against Norfolk Southern over the train derailment, alleging negligence, according to WFMJ-TV in Youngstown. 
At least four complaints ask judges to declare the lawsuits class actions, which would allow other people impacted by the derailment to become plaintiffs. 
The lawsuits seek for the rail operator to pay for medical screenings and related care for anyone living within a 30-mile radius of the derailment to determine who was affected by toxic substances released after the derailment.
Norfolk Southern has declined to comment on the lawsuits.
This story was reported from Cincinnati. The Associated Press contributed.