'Thrown under the bus': Text messages detail Minneapolis frustration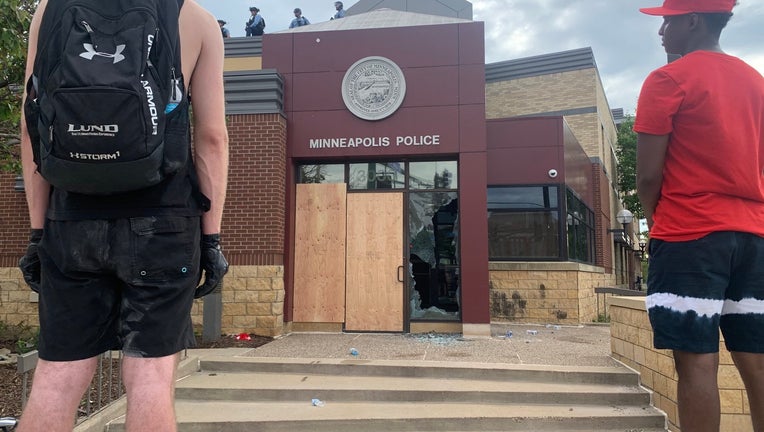 article
MINNEAPOLIS (FOX 9) - More than 24 hours before the fall of the Third Police Precinct, Minneapolis City officials knew they had lost control of the city and needed help.  
On Wednesday, May 27, at 6:28 p.m., Mayor Jacob Frey's Communications Director Mychal Vlatkovich texted other senior advisers, "Mayor just came out and said the chief wants him to call in the National Guard for help at Third Precinct. Mayor appears intent on doing."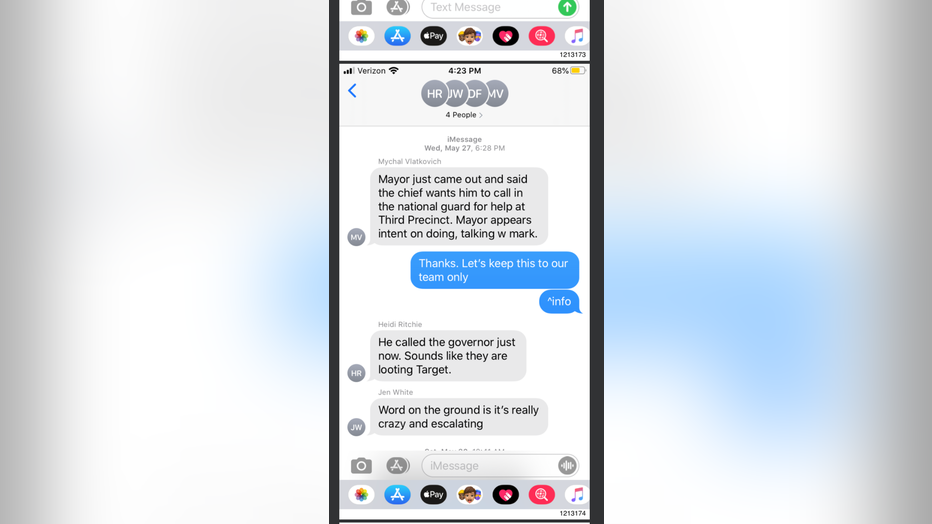 Texts messages detailing the decision among Minneapolis leaders to call in the National Guard to help with the unrest.
"Word on the ground is it's really crazy and escalating," texted back a senior advisor.  
But a couple of hours later, at 8:08 p.m., Vlatkovich will relay a message from Mayor Frey, "He said Walz was hesitating…."
The FOX 9 Investigators obtained 790 pages of text messages, emails, documents and briefing notes from the City of Minneapolis under the state's open public records law, Minnesota Data Practices.  
More than a dozen text messages between Minneapolis city officials reveal their particular frustration with Gov. Tim Walz and his administration in response to the riots and aftermath of the police killing of George Floyd.  
Privately, city officials have described it as a "slow-roll" of the deployment of the Minnesota National Guard. 
Mayor Frey confirmed much of the sequence of events during a one-on-one interview with the FOX 9 Investigators on the fall of the Third Precinct.
State officials have countered, on background, that city officials were vague in their request and unclear about the nature or type of mission suitable for the National Guard.
But at 9:11 p.m. Wednesday evening, Minneapolis Police Chief Medaria Arradondo had sent a skeleton of a plan to Minnesota Public Safety Commissioner John Harrington, asking for "immediate assistance" from the Minnesota National Guard.
"The MPD has expended all available resources," writes Arradondo, "as well as all available law enforcement assistance from our neighboring jurisdictions."
The email specifically requests 600 National Guard Soldiers for a four-pronged mission that included area security, transportation assistance, and logistical assistance for the overall operation.
By Thursday morning, at 10:55 a.m., Mayor Frey sent a formal request for the Minnesota National Guard to Walz.  
The Guard would not make it in time. 
By Thursday evening, there were three large protests in downtown Minneapolis and the Third Precinct in south Minneapolis was surrounded by commercial businesses on fire and an estimated 2,000 protestors and rioters.
At 9:36 p.m., with the Third Precinct surrounded by chaos, Mayor Frey texted Police Chief Medaria Arradondo, "Calling the governor re 3rd precinct now."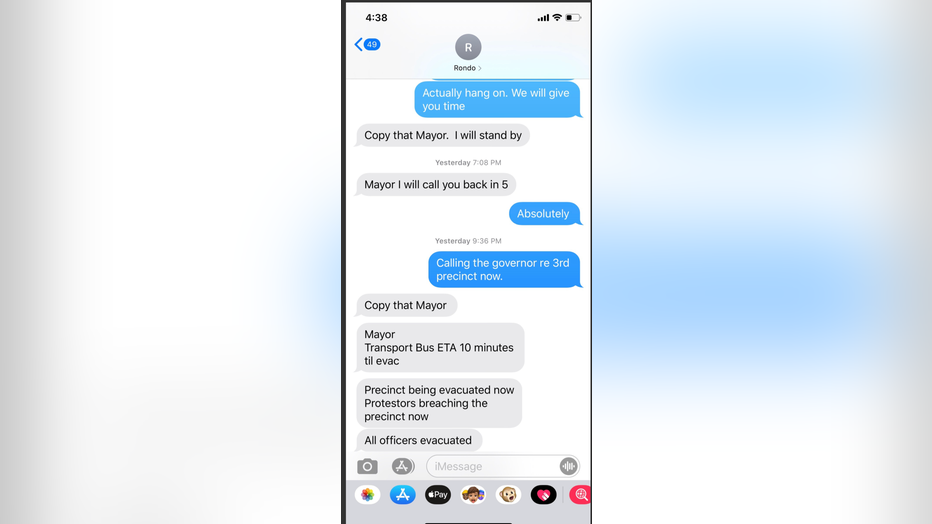 Texts messages between Minneapolis Police Chief Medaria Arradondo and Minneapolis Mayor Jacob Frey
Arradondo texted Frey back, "Precinct being evacuated now. Protestors breaching the precinct now." And finally, "All officers evacuated."
Friday, the morning after, was not much better for the mayor.  
Walz delivered withering criticism of Frey at a televised morning press conference. 
Frey and his senior advisors felt blindsided.  
"Not loving the 'failure' message in mpls coming from gov," texted Vlatkovich to press secretary Darwin Forsyth.  
"Anyway mid press conference to adjust the tone?" texted the Mayor's Chief of Staff Gia Vitali. "Feels like Minneapolis is getting thrown under the bus."
By Friday, at 4:40 p.m., Pete Ebnet, a senior strategic policy advisor, tells the mayor's team the state has changed their position.  
"Main update from state is that they are mobilizing the entire Guard and that this has switched from a protest to intentional destruction," texted Ebnet.
A senior advisor, Jenn White, sounds skeptical.  "So with the shift in perspective, do we know what will that mean for their response?"
Walz responds
When questioned by reporters Tuesday, Walz did not dispute that Frey and Arradondo first asked for the National Guard on May 27. 
Instead, the governor said Frey misunderstood what was required before the Guard could be activated. The Guard did not get a mission from the city with specific objectives, Walz said.
"I don't think the mayor knew what he was asking for. He wanted the National Guard, and what does that mean?" Walz told reporters. "I think the mayor said, 'I request the National Guard, whew, this is great. We're going to have massively trained troops.' No, you're going to have 19 year olds who are cooks, in some cases."
Walz also addressed Frey's criticism that he hesitated before mobilizing the National Guard, and said there was reason for caution.
"Putting a young troop with limited experience in the military with a loaded automatic weapon in the middle of a system with no one giving him direction -- they don't have zip ties. They don't have legal authority," Walz said.
The governor said he and Frey did not discuss specific deployment numbers in their Wednesday night phone call, even though Arradondo had specifically requested 600 Guardsmen.
"He asked for support as early he possibly could, and we delivered as early as we possibly could," Walz said. "The question was understanding what that capability was."
One narrative in state government is that Frey never participated in training given to elected officials about the National Guard's capabilities. 
Frey's aides again pushed back, noting that Minneapolis emergency manager Barret Lane is a past president of the Minnesota Association of Emergency Managers, the group that puts on one of the training events.
The Guard was unable to confirm the mayor's attendance at its trainings.
"The National Guard does not have any record of providing a private capabilities brief to Mayor Frey and/or his staff. We do participate and brief the capabilities briefing at the Association for Minnesota Emergency Manager event as well as the Governor's Conference, however we do not track attendance at those events, so I am unable to confirm if he or his staff received the briefing at one of those events," Lt. Col. Scott Rohweder, the Minnesota National Guard's operations director.