St. Paul teachers union reaches contract agreement with school district, ending strike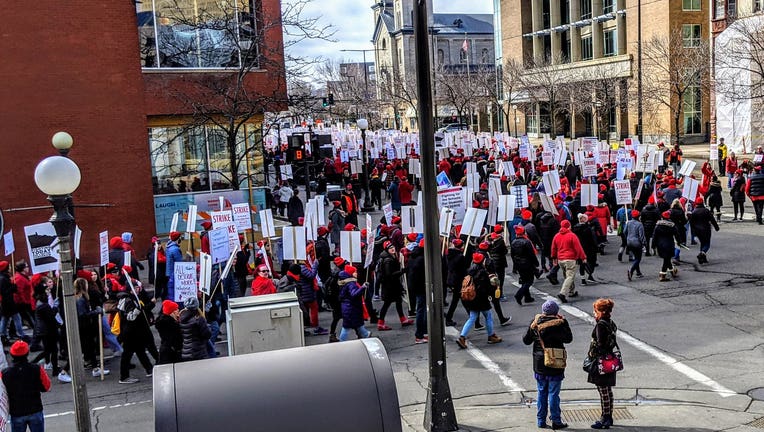 ST. PAUL, Minn. (FOX 9) - The teachers strike in St. Paul, Minnesota is officially over. The St. Paul Federation of Educators reached an agreement with St. Paul Public Schools early Friday morning, ending a three-day strike. 
According to leaders with St. Paul Public Schools, the union will get 1.5% pay raise in first year of deal and 2% in the second year. SPFE did not comment on specifics in the agreement, but said it includes more social workers, nurses, psychologists and multi-lingual staff to help front line teachers. There is also an agreement to call for a moratorium on new charter schools.
Federation President Nick Faber explained while the deal is satisfactory, he believes if not for the coronavirus pandemic, the strike would have continued into a second week.
"Nobody has written a bargaining handbook about the intersection of negotiations and a global pandemic. Right?" said Faber. "So our team was looking at new territory and what that meant."
"I will not allow a distraction like COVID-19, something that is a pandemic across this world, to tarnish what we accomplished in negotiations," said Joe Gothard, St. Paul Public Schools superintendent.
Gothard called it a long, hard nine months to bring some labor peace to the district and apologized to students and their families for having to endure such uncertainty.
"I can clearly see how much you value your educators, your schools, your communities," said Gothard. "You have dreams, you want to be in school, you want to learn. That's why we're here."
Teachers went back to work Friday afternoon, but students will not report to school until Monday. The seven Kid Space sites as well as the 24 locations serving meals will be open on Friday. 
The full membership of teachers have to agree on whether they want to accept the two-year contract agreement. A ratification vote will be scheduled for a later date. 
St. Paul educators went on strike on Tuesday after more than nine months of negotiations.