Smashburger launches mac and cheese burger nationwide: 'Taste innovation'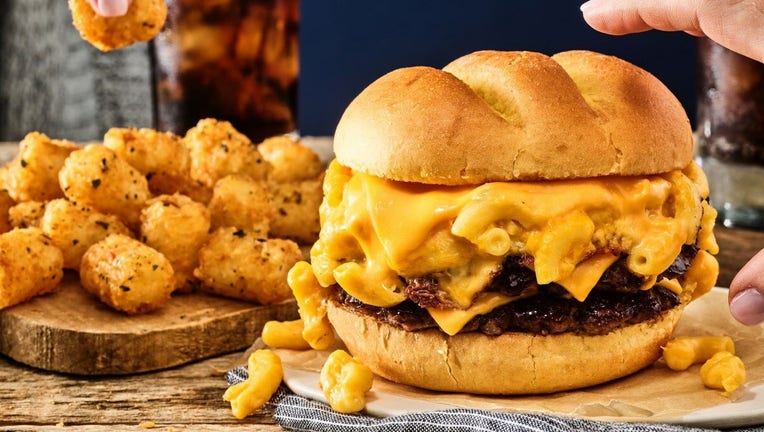 article
Diners won't have to choose between macaroni and cheese and burgers at Smashburger. 
The fast-casual burger chain has launched a new S'mac & Cheese Burger.
Smashburger's S'mac & Cheese Burger is made with certified angus beef patties that are topped with slices of American cheese. The sandwich is finished with a layer of mac and cheese, which is pressed between a toasted bun.
The new S'mac & Cheese Burger is a limited-time menu item that can be ordered at participating Smashburger locations nationwide, the company announced in a recent press release.
SMASHBURGER OPENS FIRST RESTAURANT WITH BAR AS FAST FOOD INDUSTRY GETS BOOZY
"As a leader in the fast-casual space, Smashburger is proud to be at the forefront of taste innovation – constantly pushing the boundaries of flavor with quality ingredients to create delectable new menu items," said Carl Bachmann, president at Smashburger, in a statement. 
"For this dish, we're using our proprietary smashing technique to smash the mac and cheese on the grill to create a crispy and flavorful baked cheese layer before adding it to the burger," Bachmann continued. 
"It's something we've never seen done before and know our guests will love it as much as we do!"
Smashburger says customers can also request that a layer of S'mac & Cheese be added to other burger and sandwich menu items it serves, including the brand's Classic Smash Burger and Scorchin' Chicken Sandwich.
SMASHBURGER DEBUTS CHICKEN WINGS AS CHAIN EXPANDS 'NON-BURGER OFFERINGS'
Customers who order the mac and cheese dish by Monday, March 6, will get a 50% discount on S'mac & Cheese Burger orders with the promotional code "SMAC50," which can be redeemed in-store, online or through the Smashburger mobile app at participating locations.
S'mac & Cheese Burgers can be ordered for takeout or delivery on Smashburger.com, the Smashburger mobile app or through third-party delivery platforms, such as DoorDash, Postmates, Uber Eats and GrubHub.
Smashburger customers who are interested in a S'mac & Cheese memento can enter their name for a chance to win a limited-edition macaroni-shaped body pillow through an Instagram giveaway.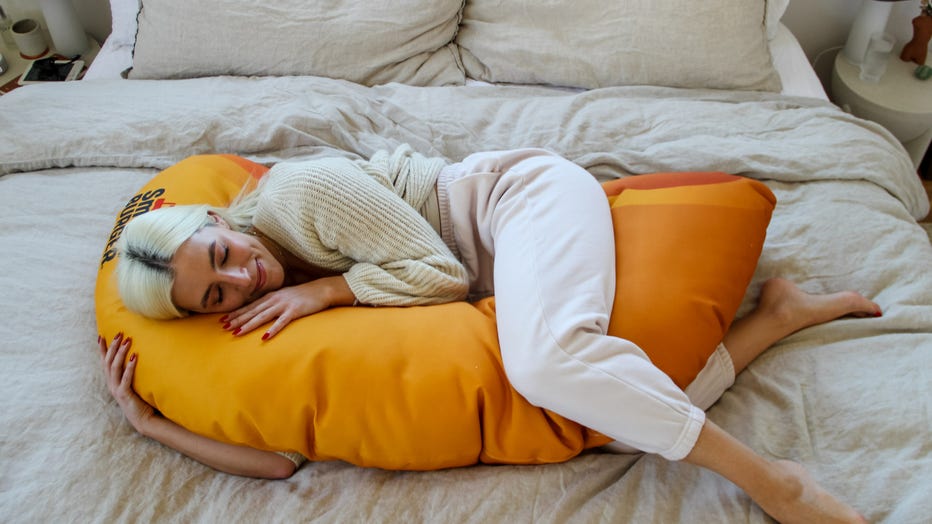 Smashburger is giving away limited-edition macaroni-shaped body pillows in honor of its new S'mac & Cheese Burger menu item. (Smashburger)
SMASHBURGER JOINS CHICKEN SANDWICH WARS WITH LIMITED TIME SPICY OFFERING 
Customers have until Tuesday, Feb. 28, to enter the giveaway (deadline is 11:59 p.m. PST). 
Terms that giveaway hopefuls must meet include following the Smashburger Instagram account, leaving a comment under Smashburger's in-feed pillow post, tagging three friends and adding the mandatory #smashfan hashtag.
GET FOX BUSINESS ON THE GO BY CLICKING HERE
The full list of rules for the body pillow giveaway can be found on smashburger.com/smac-and-win.
Food innovators at various restaurant chains have attempted to combine mac and cheese with sandwiches in recent years, including Panera's Grilled Mac & Cheese Sandwich from 2021 and Red Robin's Buzz Mac'N'Cheese Tavern Double from 2016.