Governor activates National Guard after messy day on Minnesota roads
MONTICELLO, Minn. (FOX 9) - Gov. Tim Walz activated the Minnesota National Guard Wednesday night to provide emergency services for motorists stranded during a severe winter storm. 
The National Guard is already active in Renville County where major highways have been closed. The National Guard has also deployed its small unit support vehicle (SUSV) to help rescue drivers stranded on the road in Martin County. 
The National Guard opened one of its armories in Olivia, Minn. to shelter stranded motorists in the area around 6:30 p.m. Wednesday night. All roads in that area are closed due to limited visbility and blizzard conditions. 
The Minnesota State Patrol says it has responded to 435 crashes, 570 vehicles that spun out or went off the road and 38 jackknifed semis Wednesday through early Thursday morning.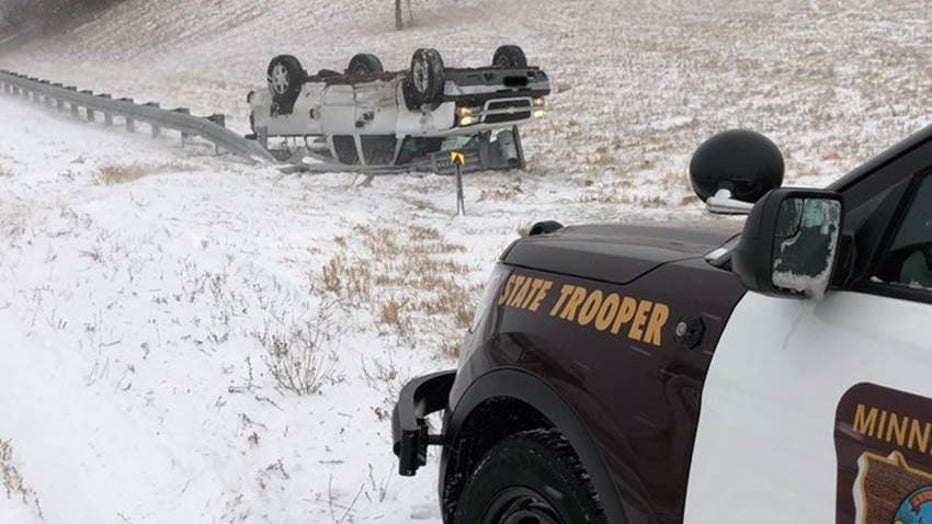 The State Patrol responds to a car off the road near Clearwater, Minnesota on I-94 Wednesday. (Minnesota State Patrol)
55 of those crashes involved injuries, none of which were life threatening. 
Wednesday night, some municipalities decided to pull their snowplow fleets from the roads because conditions deteriorated so quickly. The city of Shakopee said it would return its fleet to the streets overnight. Chisago County said other motorists should follow their lead. 
"You shouldn't be out either. Stay home," the county said in a tweet. 
The Minnesota Department of Transportation closed I-90 between the South Dakota state line and just east of Blue Earth, Minnesota due to "whiteout" conditions. Earlier in the day, a crash closed I-90 in both directions between Exit 102 at MN-15 and Exit 107 at MN 262 near Farimont. The Minnesota National Guard opened one of its armories for motorists stranded in the area Wednesday night. 
Separate multi-vehicle crashes closed the eastbound and westbound lanes of I-94 in Monticello and Albertville Wednesday afternoon. Both directions of the interstate reopened just after 5:30 p.m. However, authorities had to re-close the section of interstate after about 45 minutes due to multiple spinouts and crashes after the reopening.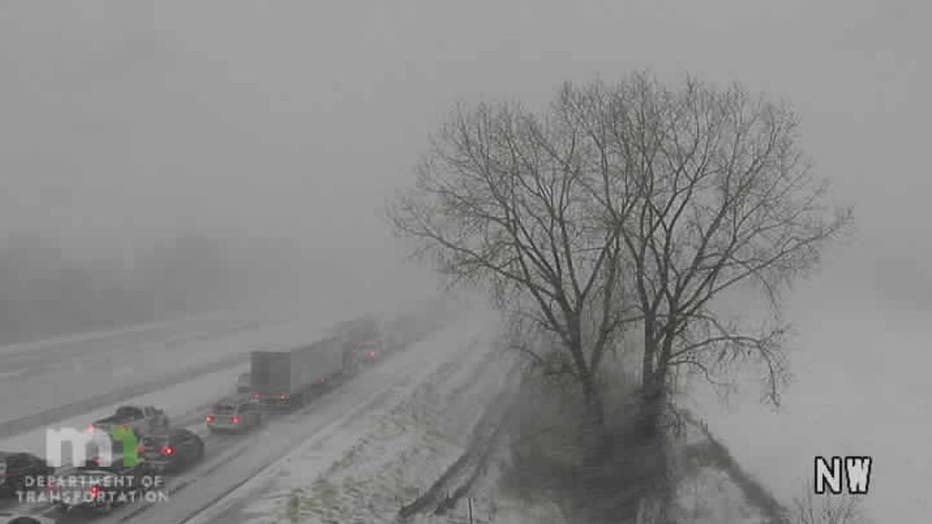 Cars were backed up after a pile-up crash closed lanes of I-94 eastbound and westbound Wednesday. (MnDOT)
MNDOT said a multi-vehicle crash closed I-94 eastbound around 2:45 p.m. as crews respond to the scene. Minutes later, MnDOT said another multi-vehicle crash, just a few miles southeast of the first one closed the westbound lanes of the interstate.
A no-travel advisory was issued for western Minnesota Wednesday. That advisory was lifted around 8:30 p.m., but authorities urged motorists to proceed with caution. 
A blizzard warning was in effect for the western half of the state and the Twin Cities metro area.
Law enforcement worked to rescue motorists trapped in their vehicles on Hwy. 12 northwest of Willmar, Minnesota Wednesday evening. The State Patrol says the highway, between the cities of Benson and Murdock, is blocked with vehicles. Troopers reported zero visibility in the area. 
Dozens of crashes have been reported statewide Wednesday as snow and wind made for rapidly deteriorating driving conditions.
Stay up to date on the winter weather by downloading the FOX 9 Weather App. It has the latest temperatures, snow totals, forecasts and school closings 24/7. Download it for Android or Apple.