1 arrested, 1 suspect at large in Dunn County quadruple homicide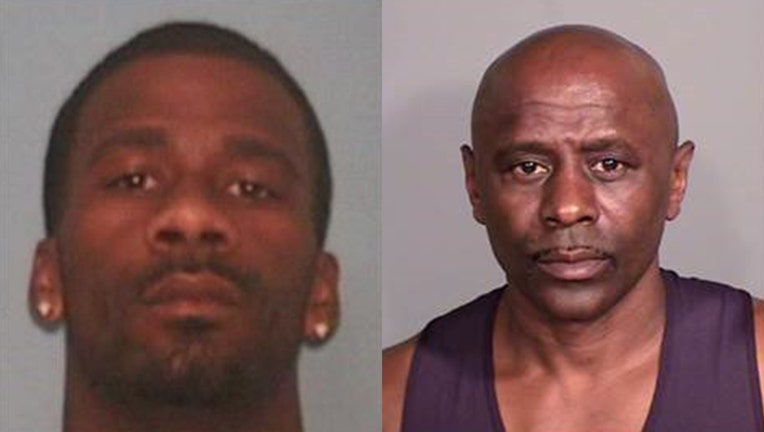 article
TOWN OF SHERIDAN, Wis. (FOX 9) - Authorities in Dunn County, Wisconsin say they have taken one man into custody and are searching for another in connection to the homicide that left four people dead near the Town of Sheridan Sunday afternoon. 
The Dunn County Sheriff's Office issued search warrants for the two suspects late Wednesday night. The St. Paul Police department arrested one suspect, 56-year-old Darren McWright of St. Paul, who also goes by Darren Osborne. According to online Wisconsin court records, he has been charged with four counts of hiding a corpse. The other suspect, Antoine Suggs, 37, who is still at large, is thought to be in the Minneapolis-St. Paul area. 
FOX 9 is told the suspects are a father and his son and are facing charges of hiding a corpse.
Anyone with information about Suggs' whereabouts is asked to contact police. 
The four victims, 30-year-old Nitosha Flug-Presley of Stillwater, 26-year-old Matthew Pettus of St. Paul, 35-year-old Loyace Foreman III of St. Paul and 30-year-old Jasmine Sturm of St. Paul were found dead in a car Sunday afternoon.  
According to the sheriff's office, at about 2:18 p.m., dispatch received a 911 call reporting a death in Town of Sheridan. The victims were reportedly found in an abandoned black SUV that was driven into a cornfield off a rural road.
For now, they are only charged with crimes investigators can prove happened across the river in Dunn County. Dunn County Sheriff Kevin Bygd says he is confident at least one of them is likely facing more charges.
"We certainly believe that one of them could be responsible for the homicide," said the sheriff.
Where that homicide happened is still a question to investigators but the sheriff thinks it may have happened in St. Paul.
"We look at cameras in St. Paul, all the way down 94, coming in from Stillwater so we look at all those options," explained Sheriff Bygd.
He says investigators are trying to learn more about the connection between the four victims and the father-son duo.
"My understanding is they all kind of grew up in the same neighborhood and knew each other, families knew each other," said the sheriff.