Monticello residents question Xcel Energy spill details at public meeting
MONTICELLO, Minn. (FOX 9) - Xcel Energy managers got an earful at a community meeting in Monticello Friday after a nuclear power plant had two radioactive water leaks.
The meeting comes as the nuclear plant in Monticello leaked 400,000 gallons of water containing Tritium, a radioactive by-product, back in November, but the utility only told the public last week.
Then Thursday, the company revealed a containment system put in place had overflowed and sent several hundred more gallons into the soil, prompting a shutdown to ensure the pipe can be replaced.
But there's a lot of frustration that this effort at transparency didn't begin months ago.
"This is very clear feedback we've got," said Chris Clark, Xcel Energy President for Minnesota and the Dakotas. "We like being part of this community. We want to regain your trust."
Earlier at a news conference, Clark explained that after the initial leak last November, they bore into the ground beneath the pipe and placed a container to capture the leaking water. The plan was to replace the pipe when the plant had a scheduled maintenance shutdown in mid-April.
However, the catch-basin is now spilling out, prompting Xcel to begin powering down the plant on Friday to dig up the pipe and replace it.
"We'll cut that pipe out," said Clark. "We'll send that pipe off to a lab and do a full root-cause analysis of why that pipe failed."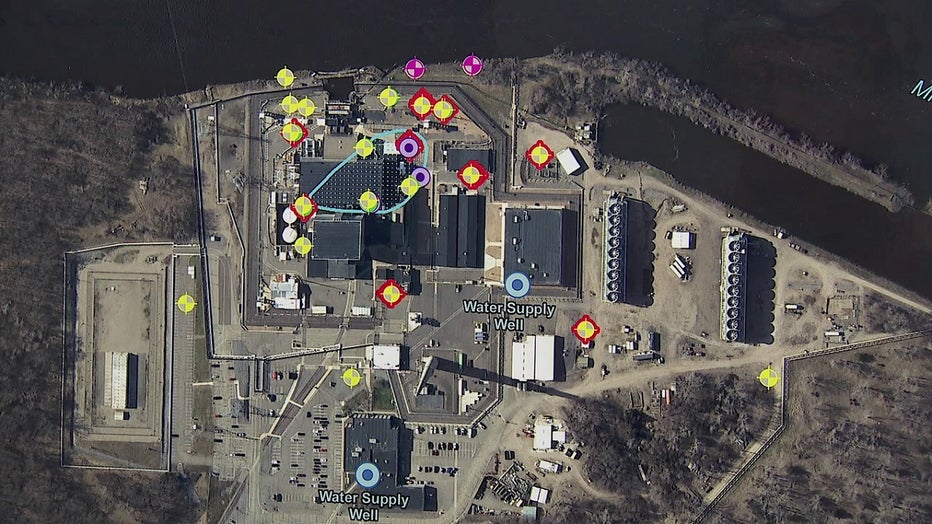 Details on locations of Xcel Energy's spill last November. 
The information shared at the community meeting, through maps and conversations, was clear. 
The Tritium spill is still in a small area under the nuclear plant. It was unlikely to ever reach the nearby Mississippi River before mid-April, say Xcel officials.
The Minnesota Department of Health (MDH) displayed maps showing the nearest private wells are more than a half mile away. The nearest public wells are over a mile, and they are all against the flow of groundwater.
"Where the wells are located, the private wells, the public wells," said Mary Navara of MDH. "When you look at the maps, and you look at the water flow, you can see it isn't going to get to them. It isn't going to pose a risk at this point."
She also claims it would take large concentrations of Tritium to pose a risk even if there was contamination, meaning the exposure would have to be over a long period of time.