Twin Cities' first snow of the season arrives for Halloween: Here's how much we got
MINNEAPOLIS (FOX 9) - The first snow of the season has arrived in the Twin Cities. 
Minnesotans woke up Tuesday morning to snow cover on streets, sidewalks, and lawns. It is actively melting due to ground heat, but not melting all that quickly. This is making for some very slippery conditions on the roads. 
Shortly before 10 a.m. the Minnesota State Patrol released the preliminary crash numbers, stating there were 181 crashes, 121 spin-outs/vehicles off the road, and 13 jackknifed semi-trucks between midnight and 9 a.m. Tuesday. There were no serious injuries or fatalities reported.
Northwest winds over 25 mph aren't helping either, making it feel very cold. 
A total of 2.6 inches of snow fell at Minneapolis-St. Paul International Airport for this storm, but 1.7 inches fell on Halloween. This makes it the second-snowiest Halloween on record for the Twin Cities, far less than the 1991 Halloween blizzard. Much of the Twin Cities metro ended up with 2-3.5 inches of snow but some spots are slightly over and under those numbers.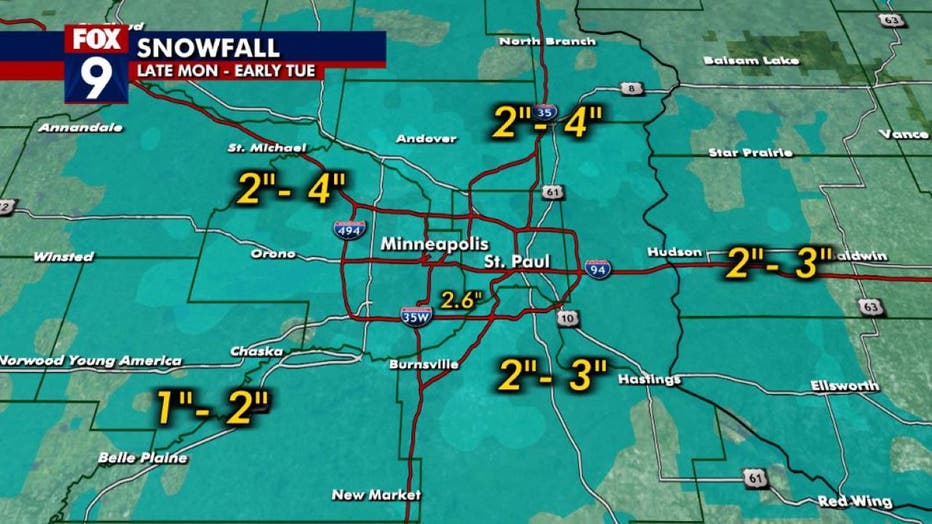 The snow totals from late Monday to early Tuesday. (FOX 9)
Now on to trick-or-treating — there will be a good melt through the day and a slight warming in temperatures. It won't be warm by any stretch but will be improved from Tuesday morning. 
Here's your seven-day forecast: