First snow: It snowed in Minnesota on Friday
EDEN PRAIRIE, Minn. (FOX 9) - Snow is making its first appearance of the season here in Minnesota with the far northwestern corner getting some accumulating snow early Friday morning. 
Dustings to an inch were reported from Detroit Lakes to International Falls. Up to 3 inches were reported from near Grand Forks North Dakota to Roseau. A lot more snow is falling farther west, with areas north of Bismarck in central North Dakota getting as much as 14 inches. Meanwhile, it's been all rain in the Twin Cities with another three-quarters of an inch falling at Minneapolis-St. Paul International Airport on Thursday and into early Friday.
The Minnesota Department of Transportation's website shows roads in far northwestern Minnesota are covered in snow and/or slush. Here's a photo from a plow on Minnesota 1 near Warren, Minnesota, at 7:35 a.m. Friday: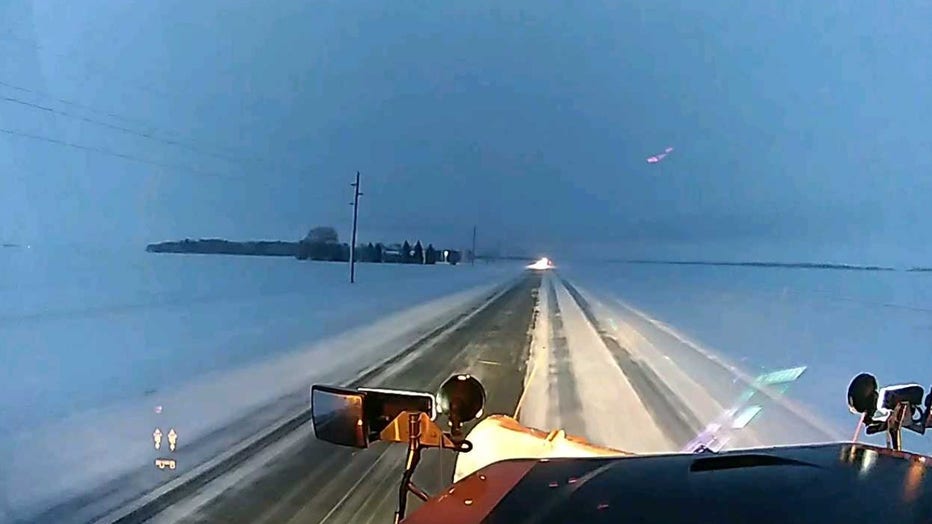 Snow on Minnesota 1 near Warren, Minnesota, at 7:35 a.m. on Friday, Oct. 27, 2023. 
While this seems too early for snow in Minnesota, it's not. Much of northern Minnesota averages at least an inch of snow during the month of October. Even the Twin Cities often receive our first flakes of the season around or before Halloween. It typically takes longer to get at least an inch of accumulating snow in the metro though, often occurring by mid-November. Don't beat yourself up about how you're feeling as it may feel more sudden this year because it has been so incredibly warm. We are coming off the warmest September on record and October is running 4 or so degrees above average.
Just remember, it could always be worse. The earliest 1 inch snowfall in the Twin Cities was actually in late September back in 1942. And of course, who could forget about what happened in 1991? Nothing like that is in the forecast, so enjoy wearing your plaid and eating chili over the much colder weekend.