Minnesota tax rebate checks may look like junk mail
ST. PAUL, Minn. (FOX 9) - If you're still looking for your income tax rebate check, take note of any mail coming from Montana. 
Minnesota rebate checks are being mailed from a Missoula, Montana-based vendor called Submittable Holdings, which could cause confusion for people looking for a check from the Minnesota Department of Revenue. 
"The checks are legitimate. Submittable is a form-building and funds distribution software company located in Missoula, Montana, that the state has partnered with to help distribute the 2021 One-Time Rebate Payments," Minnesota Department of Revenue spokesperson Ryan Brown told FOX 9. "We also partnered with Submittable during the Frontline Worker Payment effort."
The state is also working with U.S. Bank to distribute the rebate payments. 
Here's what the return address looks like, courtesy of a FOX 9 viewer: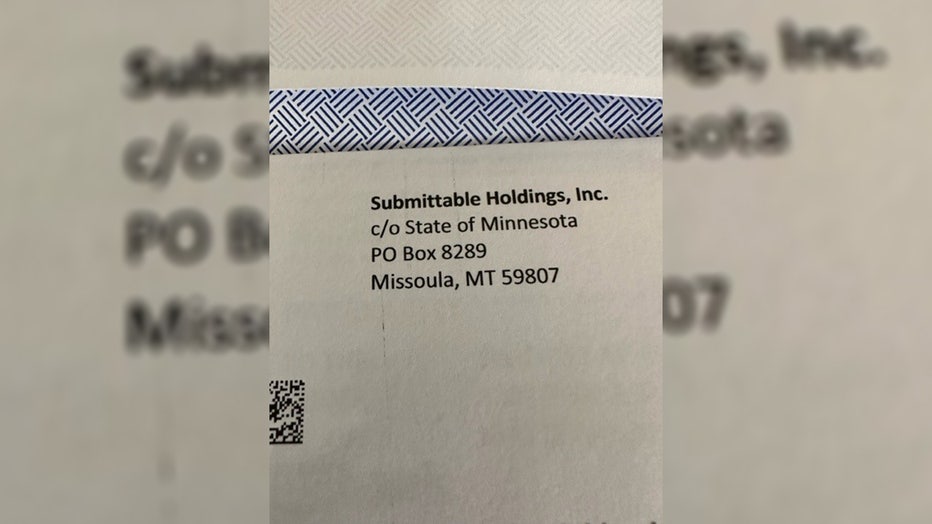 The return address for Minnesota income tax rebate checks lists Montana, which is causing confusion among taxpayers. (Supplied / Supplied)
Here is a sample proof of the rebate check:
Brown said the Department of Revenue (DOR) is using a third party because it is in the middle of property tax refund season, and "The department does not have the resources needed to issue both payments without risking an interruption to property tax refunds. We understand many taxpayers rely on timely property tax refunds to pay their October property tax bill, so it's vital there is no interruption."
Payments of $260 are going out to Minnesotans whose adjusted gross income in 2021 was $75,000 or less. Married couples who file jointly and have adjusted gross incomes of $150,000 or less will get $520. Eligible families will also get another $260 per dependent, up to three, for a maximum of $1,300.
Those who didn't get the rebate via direct deposit will be mailed checks — the checks are being sent to the addresses that taxpayers used on their 2021 tax returns, unless they updated their addresses by the July 28 deadline. If you had direct deposit with a different back in 2021, you'll be issued a check via the mail.
Anyone who thinks they're entitled to a rebate but hasn't received a payment by the end of September should contact the Department of Revenue, officials said in August.